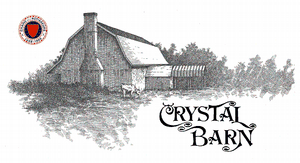 Former Location
2851 Clover St, Pittsford NY, 14534
Status
CLOSED (as of October 2010)
Crystal Barn was an upscale restaurant in an authentic 1860 barn filled with Tiffany chandeliers and Victorian motifs.

Three rooms had been available to rent for banquets, rehearsal dinners, and other functions.
Comments:
Note: You must be logged in to add comments
---
2008-04-18 13:13:58 This was always a favorite among my parents and I in the 80's, but as time has passed the quality of the food has deteriorated.
I recently ate at the Crystal Barn and my dinner was ok, but nothing amazing.
But this is one of the few true upscale dining establishments left in Rochester (and the country) even though it is in an old Barn. Sorbet to cleanse your palate between courses is always a great way to dine. —MrRochester

---
2009-03-30 15:54:55 03/30/09 Very disappointed in quality when we went for my birthday dinner yesterday. The Beef Wellington was a tough cut of meat with grizzle and barely any pate. My husband's Sole Wellington seemed ok but nothing spectacular and then he felt nauseous all night. The wine that was suggested wasn't close in character to what I said I was looking for. Bread, salad and dessert was good. Wouldn't ever go back for those prices without the quality! —rsimmons
---
2009-10-16 14:42:38 I'm not surprised to read the earlier comment about someone getting nauseous after eating the Sole Wellington. Crystal Barn does not cook its Wellington dishes properly!! My date became violently ill after eating the Beef Wellington, which he noticed contained uncooked pastry dough. Uncooked dough is a surefire way to get a stomach bug—worse than uncooked chicken!! —JosephMark
---
2009-10-17 16:20:01 Beef Wellington uses puff pastry dough, which is made from only butter, water, salt, and flour. I don't know how you can catch a stomach bug from that! Even if you use an egg wash, any Good Eats fan can tell you that you have only a 1 in 20,000 chance of getting an egg with salmonella. —DamianKumor