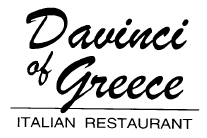 Davinci of Greece is a Restaurant offering Italian cuisine in an intimate setting. Located on West Ridge Road in Greece. The website contains a full menu.
Comments:
Note: You must be logged in to add comments
---
2008-03-24 21:04:34 I was there last night with a party of 7. We ordered the garlic cheese bread as an appetizer. The bread was covered with the perfect amount of fresh garlic. The cheese was mild enough to accompany the garlic instead of overwhelming it.
I ordered Chicken Scampi & Vegetable Minestrone(it came with soup or salad.) The minestrone had a very deep flavour - I think they used beef broth. It was the perfect complement to the tomato-ey base. The Chicken Scampi was very good - I personally would ask for extra garlic next time as I prefer the extra punch but the other people who also ordered it thought it perfect. The portion was huge. Most of it is sitting in my fridge - I could probably get 2 meals out of it. Other members in the party ordered the special of the day (which was seasoned & grilled 10 oz salmon with a side of pasta and broccoli), Chicken Anthony, Chicken Parm and Chicken Zingara. Everyone was very satisfied with their dishes.
For dessert, we tried the lemon cake, tiramisu and cheesecake. Even as a tiramisu snob, I was very impressed with the (are you ready for this oxymoron?) light but dense texture of it and the hint of bitterness from the espresso & chocolate dusting that balanced out the sweetness of the mascarpone. The lemon cake was different - the cake was dense and the cream was described as a cannoli filling with lemon flavour. I think it was everybody else's favourite. The cheesecake was good but nothing special.
The service was impeccable - they were there without being there obviously. I will definitely return. —OneLove

---
2008-05-06 16:04:04 Davinci's has always had great Italian food.
I heard they just remodeled the place as well, good stuff, as it needed it. —MrRochester

---
2011-08-25 17:16:34 Awesome food. I contemplated using them as my rehearsal dinner caterers. The service is amazing, and the food is excellent. The Chicken Marsala (not on the menu but they will make it) is very good. I eat here all the time.