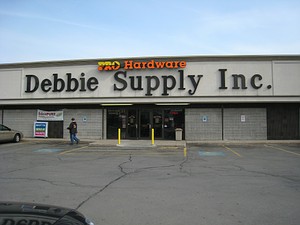 Debbie Supply in East Rochester, 03-2010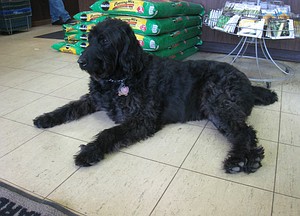 Luka, the Shop Dog, 03-2010
Location
453 West Commercial Street, East Rochester NY, 14445
Hours (as of July 2011)
Monday - Friday: 8:00AM to 8:00PM
Saturday: 8:00AM to 5:00PM
Phone
585 586 8069
Accessible
Yes
Email
<info AT debbiesupplyinc DOT com>
Website
http://www.debbiesupplyinc.com
Debbie Supply is a no-frills, have-what-you-need-without-hiking-long-distances hardware store in the village of East Rochester.
Comments:
Note: You must be logged in to add comments
---
2007-09-24 21:00:46 They have what you need and they know what they have —EricLarsson
---
2008-07-24 20:11:28 last of the breed of locally owned hardware stores. —MrPhil
---
2008-09-10 13:25:01 They often have many of the small things Home Depot and Lowes do not carry. The place needs a severe dusting, but the blue collar guys behind the counter know their stuff and know wheres its located in the store. If they dont have the item, and they know how to get it, they will order the item for you. They also have a 10% off coupon in the phone book, just FYI.
This is not a place to buy your decorative lighting or faucets, but if its a hard to find screw, hinge, or pipe, they will have it. —MrRochester

---
2009-02-14 11:43:11 I recommend calling them for the most up to date store hours. I just called and found out they are open until 5pm on Sunday. —JeffCox
---
2009-04-18 09:05:25 HOURS ON SATURDAY ARE 8AM - 5PM (NOT 8PM!!!) —LakersarebetterThanthesuns
---
2009-10-02 13:07:34 They almost NEVER have what I'm looking for. When they do, its always more expensive than the competition. The final straw was when they told me I had to spend a minimum amount of money in order to use my credit card - this is in direct violation of both Visa and MasterCard policy. "Visa merchants are not permitted to establish minimum transaction amounts, even on sale items. They also are not permitted to charge you a fee when you want to use your Visa card." "Another MasterCard acceptance rule prohibits merchants that accept MasterCard cards from establishing any minimum amount below which the merchant won't accept payment via MasterCard card.". I will not be going back. —MarcusKroll
---
2011-07-02 18:11:08 I have always failed to stump them. They always have what I need, from packing for a faucet to a spring for my garage door. they are amazing. They also know their stuff. —BrianStanfield