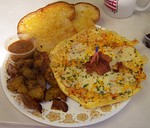 The 3 Egg Pie, with bacon and onion. Side of potatoes and Magic Toast. Don't forget the hot sauce.
Former Location
1308 Buffalo Rd., Rochester, NY 14624
Status (as of November 2008)
CLOSED
Well General Hoock was at it again. Shawn had finally gotten a spot. He bought DiCimino's Pizza, and it had a menu like many other Pizza Places.

They had a Friday Fish Fry, with fresh cut red potato french fries.

But MOST importantly, the All American Breakfast had a new home. Shawn was serving breakfast again, and it was as good as it was previously. Best of all, he served breakfast all day. Shawn was a person who was not afraid to use spices when cooking breakfast. Sadly, DiCimino's had very limited seating.

Fun fact: delivery was available, with a $17.00 minimum order.
Comments:
Note: You must be logged in to add comments
---
2009-02-14 17:03:58 We've started getting our pizza's at the new DiCimino's. It's new because it is under new management and he knows his stuff! The last few pizza's we've had from there have fresh veggies and the dough has a great flavor. It's a little our of our way but well worth the trip. —LizZimmerman