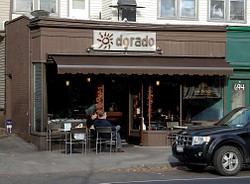 Dorado on Park Ave, 11-2010
Credit: Matt Deturck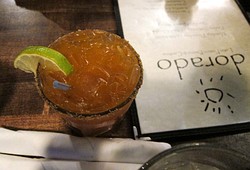 Pumpkin Margarita, 10-2012
Dorado is a Latin Fusion restaurant in the Park Avenue Area featuring fresh takes on latin favorites and a full bar complete with beer wine and cocktails. Major credit cards are accepted.
Comments:
Note: You must be logged in to add comments
---
2008-12-13 10:17:59 The "trendy" atmosphere, good waitress, and decent root beer (some organic brand in a can) do not make up for the food and price. Chips, guacamole, and salsa are $4; I think the chips are from a bag and warmed up, the salsas are mild, and the guacamole is thin (not chunky) but okay. I ordered enchiladas; the sauce tasted like Italian sauce from a jar and the rest was rather bland. The plate came with a spoonful each of sour cream and guacamole and a salad (I expected, and would have vastly preferred, yellow rice). I asked the waitress about the deserts and was told that the spice cake is made on site and then flan is made for them by some Mexicans. I did not order either; but perhaps I should have suggested that they get the same Mexicans to make the rest of the food. —RobertFrapples
---
2008-12-13 20:59:24 We ate here a few weeks ago, and while certainly not bad, it didn't impress us. Totally agree with the above comment about the enchilada sauce tasting very "tomato-y". And prices kinda high for the quality of the food. —DottieHoffmann
---
2008-12-19 11:37:07 Im completely committed to supporting local small business and especially Park Ave Merchants but this place will never last. $4 for chips? If you want to try it, hurry, because I guarantee it wont be here in the spring. —JamesPatrick
---
2008-12-20 12:11:02 My husband and I went a few days ago for the first time. A mixed-bag.
Positives: the location is excellent, the decor is pleasant, and our sandwich entrees (cuban & salmon taco) were really quite nice, coming with a good mixed-green side salad.
Negatives: paying $4 for chips/salsa/quacamole is annoying, especially when neither the chips nor the sauces are anything special. The quacamole in particular looked like it came from a mix you could buy at Wegmans and is miles below (for instance) Salena's in quality.
Since Dorado is new, we'll probably try them again after a couple months. Question: does anyone know if this restaurant is related to its neighbor Cibon? Both restaurants have the same 'vibe', menu design, side salads, dishes, etc. —LePetitChien

---
2009-01-15 14:32:30 @LePititChien The relation is familial: Dorado is owned by Jon Swan while his mother, Robin, owns Cibon. —MattDeTurck
---
2009-03-03 23:11:51 Had dinner here tonight and it was really good. Its def more tex-mex than true mexican but still delicious. My enchilada was a little bland so the waitress recommended adding one of the 30 sauces they have available at the counter. That did the trick, she said thats why they have them there. You can customize your meal with any of the sauces easily. Interior is small, but comfortable and clean. Id go back. —MrRochester
---
2009-03-07 18:36:09 I recently visited Dorado.
Positives:
The food is wonderful. Certainly a fresh addition to the sparse Rochester restaurant scene (though it is by no means authentic).
The decor is airy and a pleasant suprise- bright colors, Latin music and artifacts - definately an upgrade from that of the previous tenant.
Negatives:
The service is a tad slow at. I had lunch there saturday, at one in the afternoon. There was no excuse for slow service when the tiny restaurant was only a third full. After sitting down with my water and mohagany dish of pine nuts, the waitressed ignored me for almost ten minutes. When she finally returned to take my order, the pace began picking up, and by the time I walked out, I knew her name. Though slow, Dorado has very aimiable staff. —postulio637

---
2009-04-25 10:32:01 This place is awesome! We sat down at an outdoor table and were immediately greeted by a friendly server with a bowl of spicy pepitas, which were promptly refilled after we emptied them. I ordered the spicy fish sandwich and my husband ordered a pulled pork enchilada. Our orders were ready quickly. Though the spicy fish sandwich wasn't spicy in the least, it was delicious, and the hot sauces the waiter brought us helped to up its spiciness level. The side salad and its tasty dressing was a refreshing touch. My husband's enchilada was delicious as well, and its red chili sauce had an interesting, zesty flavor. And the portions were perfect - both of us were pleasantly full with no need to take a doggy bag. The only downside to Dorado is that they don't have their liquor license yet, though it is pending. I look forward to returning and trying the pulled pork sandwich - and hopefully a cold beer or margarita! —AJH
---
2009-05-29 14:49:47 I had lunch at Dorado today and thought it was very nice. I am surprised at some of the negative reviews on here. I got the chicken Dorado tacos with corn crispy shells (the taco shells were especially yummy). The ingredients were very fresh and wholesome, and I liked that the tacos came with mixed greens on the side instead of some greasy carbs. The restaurant was full but the service was prompt and our server very friendly but unobtrusive. The prices are a few dollars higher than I would like, but the quality of the food is much better than some other Mexican restaurants (Salena's has really gone downhill, in my opinion). So I would recommend trying this place. —OxfordWriter
---
2009-07-25 13:32:03 There appears to be some sort of time/service vortex here. Two guys who sat down after us got their meal, ate half their meal, ordered more food, and were halfway through that second course before we got our meal. Another couple who sat down before us got their food shortly after we got ours.
When it finally arrived, the food wasn't really enough to make up for the wait. The mole sauce was not very rich or thick, the beans were runny, and my girlfriend's fish was just "okay". I'm sure I'll come back to try it again, but hopefully they expand their tiny menu before that. —McgMatt

---
2009-08-13 13:41:02 I've eaten here a couple times and the food was great! Last night I had the Cuban sandwich and it was awesome. I will definitely be returning. The only complaint was that the service was pretty slow and inexperienced. —HyunMee
---
2009-09-26 08:33:11 I ate dinner here last night and was blown away. The coconut mojitos were on special and were to die for. The coconut milk-based drink was probably the best drink I've ever had. I ordered the 'Mess Plate' and my friend ordered the spicy mahi mahi, and we were definitely happy with our choices. The rice, beans and pork were very flavorful. Given that it was a full house, we were surprised at how fast the food arrived. Our servers/bartender were friendly. I will definitely be returning to this restaurant with more friends. —KHags
---
2009-11-29 19:05:32 Our first visit (see comment above) was shortly after they opened, and we have not been back until last night. We went with friends and had a very nice meal. The service was attentive and the pacing was good. We had an appetizer of fresh chips with a trio of salsas and guac that was very tasty. Each of us tried a different entree and everyone was pleased with their meal. Overall a much better experience than the first time and we'll give them another try soon. —DottieHoffmann
---
2009-12-27 16:08:22 Nate is the best bartender in Rochester, by a long long shot. —phairphunk
---
2010-01-02 20:57:57 Went for lunch with my wife and we both enjoyed our meals. Had the pork burrito and I liked the fact that it wasn't swimming in sauce and cheese which is the case most Mexican Restaurants. My wife's Carne Asada tacos were also very good. While I like the fact that the food isn't loaded down and real heavy, I must echo the others in saying some chips and salsa would be a welcome addition minus the $4 charge. Expect to pay a little more but at the same time expect to get something a little different from the norm. —almorinelli
---
2010-04-21 08:07:11 Went here last night. Besides paying $50 for two mediocre small meals, they were out of Rolls (so no sandwiches) and Beef (so there goes half the menu). Then when our food came we had to ask "don't these come with rice?" (both of them did) and the waitress informed us they were out of rice. Rice? How the hell can you not have enough stock of Rice?? And my burrito without the rice in it looked small and floppy. They clearly didn't compensate by adding anything more to the burrito. When another table next to us ordered she failed to tell them as well that they were out of rice. I know it seems like a minor thing but it's really not. Especially when it appears you are trying to sneak it by the customer by not telling them. I had high hopes and they certainly disappointed. —dladue
---
2010-07-07 10:38:38 Dorado is one of my favorite hangouts... Nate (the bartender) makes great drinks and is very personable, the owner is almost always there and you can tell he really cares about his restaurant. If you want over the top seasonings and sauces, or in other words, chain food mexican go somewhere else. But if you want food where you can actually taste what you are eating and a cool non-cliqy atmosphere... go to Dorado —jonramz
---
2010-07-15 19:30:17 Ate here right around June 30 or so with my brother and sweetie. We liked it: the burritos were good (but $11? kinda pricey considering that the ones at Hotshot Vball (formerly Raging Burrito) on University Ave are just about the same at $7.50 or so). My mahi mahi was not so good: overcooked, dry, and flavor free. What was flavorful is the monster bottle of Dorado hot sauce. Tasty! I kept shaking that bottle on my food! I'll come back, but I think Salena's has better food. I was impressed, though, with the tiny bathroom, the smallest I believe I have ever used in a restaurant. —KatieSchmitz
---
2010-08-11 13:46:48 Went for lunch last week and sat outside. Always something/someone to see on Park Ave. I ordered a beef enchilada, which came on a fancy plate with a light mixed greens salad to one side. I prefer to have my salad on a separate plate, so specify when you order. The enchilada was really very good, quality of beef was high. Their selection of hot sauces were extremely meek/mild, which surprised me. The prices are way too high, but you are in the Trend Capitol of Rochester on Park Ave. Bring your own hot sauce if you want hot sauce. —PersonFace
---
2010-09-04 23:47:45 Dorado is my absolute favorite restaurant in Rochester. Since my 1st review of this place over a year ago, I've been back at least 10 times, and the food as well as service are always top notch. Dorado also boasts an artsy interior with cozy decor, and outdoor seating in summer. The torta (Cuban pork sandwich) is the greatest sandwich I have ever eaten in my entire life. You MUST try this sandwich. The many varieties of tacos, including mahi, salmon, and chorizo, are outstanding as well. Being somewhat on the health-conscious side, I appreciate how all the sandwiches and Mexican fare are served with a small salad of mixed greens. And the mixed drink menu is substantial, with some truly unique, house-made creations for reasonable prices ($6-$8). PersonFace: if you want some real hot sauce, ask for the Pain sauce. You won't be able to feel your lips for the rest of the night (-: —AJH
---
2010-10-10 18:55:18 I have eaten at Dorado twice; the service, location and decor are nice. The actual food is just ok. It's not mexican food. The only similarity between Dorado and Mexican food is with the ingredients they use in their dishes. I agree with the first two reviews - the red sauce used in the enchiladas tasted no different than a jarred Italian pasta sauce. For anyone looking for good Mexican food in Rochester, try EL Dorado, Rio Tomatlan or even Monte Alban. —Leisel
---
2010-11-01 19:39:31 Thank you to all that have visited Dorado. In our continued effort to satisfy our customers, we have listened to your compliments and your complaints. We are pleased to announce that our chips are now made in house! Thanks for all of your suggestions, we look forward to making your next experience as good as possible.
Enjoy! —jonathancswan

---
2011-01-21 13:56:16 I recently had dinner here for the first time, and it was OK, but could use a lot of improvement. We had the $5 chips, salsa, and guac. The salsas were a little bland but were at least fresh. The guac was a good consistency (chunky)but had no flavor except garlic (adding some cilantro and lime would help). The mojito was terrible— too sugary, syrupy, and weak. Probably the worst I've had. The margarita was pretty tasty. The shrimp tacos were boring. They were made with a cilantro aioli, which sounded delicious, but tasted like a thin mayo with no hint of cilantro. I do like that they serve the food with a side of fresh greens (no iceberg lettuce!). To be fair, the people I dined with liked their entrees (the quesadillas and chicken burrito). I might try Dorado again, but not before many trips to Rio Tomatlan! —Fern
---
2011-06-06 16:57:35 The food was good - B+, their Cuban sandwich is excellent and stands above the rest. Their cocktails are very good. Pricing is just a bit too high for what you get, but its Park Avenue. The more you drink, the more reasonable it seems I guess. —cretinx
---
2012-03-10 09:14:28 I always love going here for "Latin" cuisine when I'm in the Wedge! It's so so so delicious. Everything is very fresh each time I go, the servers are very nice and friendly. Chips are good, dips for chips are good (especially the homemade guac!), the fish is good (had the mahi mahi - delicious!), the chicken mole is especially to die for. Usually happy with the mojitos from the bar too. Highly recommended! —AGoldman
---
2015-09-27 17:09:41 We had a terrible experience here last week, we waited a full hour for our food to be served, and ended up walking away when it still hadn't come. The restaurant was moderately busy, but nothing that would explain what we experienced. We did see several other tables waiting as well. I had a good feel for the timing since I was able to look at a text that I sent to a friend just before we ordered. So it didn't just "feel like" an hour, it actually was. The waitress was apologetic and knew we were unhappy, but apparently the kitchen was doing nothing to help her. It will be some time before we consider going back, and we live just around the corner.