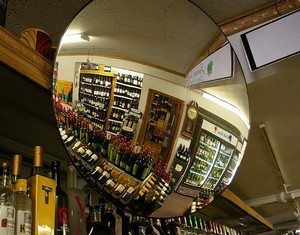 East Ave Liquor - Feb 2008
Location
1667 East Ave, Rochester NY, 14610
Hours (as of June 2013)
Monday - Saturday: 8:30AM to 9:00PM
Sunday: 12:00PM to 7:00PM
Phone
585 271 5119
Accessible
No (steps going in)
Alcohol
Yes, and plenty of it
East Avenue Liquor is a well stocked liquor store with parking on East Avenue, across from East Ave Auto and just down from the East Ave Wegmans.
Comments:
Note: You must be logged in to add comments
---
2009-01-10 10:53:31 They have a respectable selection of NYS wines and some hidden gems in the liquor department. While not my absolute favorite liquor store, I patronize this place more than any other liquor store as it is right by Wegmans (where I do my shopping). They have a really nice staff and the prices aren't out of the ordinary. —BatGuano
---
2010-09-12 11:50:51 Not the cheapest liquor store, but extremely convenient for where I live and always well-stocked. Highly recommended. —ToddC
---
2011-02-16 11:12:25 I love this store! The staff is very friendly and knowledgeable. I've never had a bad recommendation. Their selection has really improved even in the last few months. This is the only liquor store I go to. —Users/wobowee
---
2011-08-22 18:50:26 Good selection & variety for a store this size, prices are decent. Seems like they know what they are doing, nice store.
---
2016-10-11 15:53:22 For a store this size, it's quite good! Selection and prices are hit and miss, but you're going to get that with any smaller store. They carry the essentials, and have a decent selection overall. Some really good wine and liquors here for some really good prices. Just gotta find them. —DE