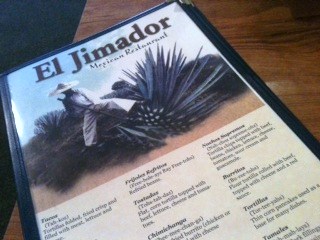 Location
1470 Rochester Rd Rte. 332, Farmington, NY 14425
Hours
Monday - Thursday: 11:00AM to 10:00PM
Friday - Saturday: 11:00AM to 10:30PM
Sunday: 12:00PM to 9:00PM
Phone
585 398 0110
Alcohol
Yes
El Jimador was the second Mexican restaurant that opened in Farmington. They opened for business on May 8th, 2008. A "lunch only" menu is served until 3 p.m.
Comments:
Note: You must be logged in to add comments
---
2008-06-15 09:11:35 Very good food! I've tried both Chimichanga's and Cheesesteak Quesadilla's. —MikeDixon
---
2008-06-15 12:16:48 I went for dinner here after seeing El Pacifico closed that night. We both had fajitas and they both sucked. I am going to chalk it up to being open for less than a week and still working out the bugs, but I am not keen to go back too soon. Hopefully they straighten things out, good luck to them! —BadFish
---
2008-06-20 13:37:03 Very good food!!!!!!!!!!!!!!! —TRC
---
2008-09-15 10:46:27 One of the best mexican family restaurants around Rochester. The food is great, prices are perfect, and the customer service and hospitality is something you would expect from a 4 or 5 star restaurant. This place has El Pacifico beat by far. If your in the area do yourself a favor and grab a meal. —ThatGuy
---
2009-08-09 13:05:57 Perhaps one of the best Mexican restaurants in this area. Excellent chips and salsa, very tasty food, good selection for vegetarians, courteous staff, and inexpensive. What else could one ask for? —GeorgeJegadesh
---
2010-04-20 14:43:33 I definitely did not have high expectations for a Mexican restaurant in the middle of nowhere, Farmington. However, it was surprising good! I've been there for lunch twice. The rice was a little dried out, but the salsa and chips were tasty and I was very happy with burritos and chili relleno. I can't wait to try the dinner menu and margaritas. —ChristineH
---
2011-03-17 14:40:53 The food at El Jimador is the stuff of nightmare for people searching out real Mexican cuisine, or simply good, edible food. I should have asked for my money back. We stopped here after discovering Rio Tomatlan in Canandaigua was closed for a long vacation. My "vegetarian chile relleno" was a blob of cheap, waxy cheese. In fact, everything on the plate was covered in cheap, disgusting cheese. My lunch partner's meat was disgustingly oversalted and yet somehow tasteless at the same time. This place made me want to scream, and I fell into a deep depression for the next few hours after "eating" there. —AliMcGhee
---
2011-04-01 22:57:48 Owner's in trouble for hiring
illegal aliens and having them live in the basement. —DamianKumor
---
2011-05-09 12:03:39 I was a bit shocked that El Pacifico had gotten such bad reviews and that El Jimador had gotten good reviews! Maybe you'll like it as taste for Mexican food is very regional...but I've been there twice and I call it El Jima-yuck!