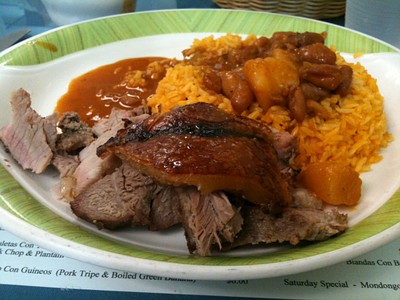 Crispy pork, beans and rice!
Location
144 Lyell Avenue, Rochester NY 14608
Accessible
Yes, after small step at Entrance
Hours (as of July 2007)
Tuesday - Saturday: 10:30Am to 6:00PM
Phone
585 454 6522
Wheelchair Accessible
Info Needed
Website
Facebook
El Taino is a Puerto Rican restaurant in Brown Square/Edgerton. Its name comes from a Spanish word for the indigenous Puerto Ricans.
UR students get a 15% discount at El Taino.
Comments:
Note: You must be logged in to add comments
---
2007-09-12 19:26:02 Mexican? Can someone confirm this? I've never been, but I'm pretty sure that El Taino serves Puerto Rican food. —JackCalcines
---
2007-09-23 11:41:34 This restaurant, to which I have not gone in about 6 or 7 years, served Puerto Rican food the last time I went, not Mexican food, in my book. It was very good, very authentic (the chicken had all the skin on it and was mostly dark meat), and a pleasant experience. I should check it out again soon. —KatieSchmitz
---
2008-02-01 08:44:06 "El Taino" refers to the native people of P.R. Thus I doubt that it's Mexican food. —OwenThompson
---
2009-03-09 16:32:50 The fried yellow plantains they serve are awesome! I loved eating here for lunch: generous portions and a modest price. The pork is delicious (almost like Chinese roast pork)! The host is very hospitable and friendly. He invited us to try some homemade sauces that were wonderful, too. —Cherkwai
---
2009-11-11 13:06:29 This place is fantastic. I had the roast pork with rice and beans that was not only cheap ($7) but also delicious and came in a huge portion size. The fried plantains were excellent, and the homemade hot sauce is awesome! Its got a nice, clean, welcoming interior with plenty of seating and friendly and helpful workers. Its cash only, but well worth a many visits. —GeorgeBluth
---
2010-02-07 12:59:51 El Taino is great. Excellent roast pork/beef stew. Comes with delicious rice and beans and is one of the best values in Rochester (~$7). —SRudman
---
2011-06-07 19:09:31 food was good. Not dynamic with crazy flavors, but it did well with its simplicity —jberna