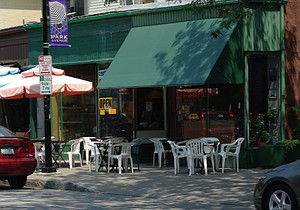 Esan Thai on Park Ave - July 2010
Esan is a restaurant on Park Avenue. They serve Thai food with vegetarian and seafood options.
Owner Bounkong Douangratdy used to have another restaurant called Kobay next door. This is now is closed. When they were both open, you could sit in either restaurant and order from either menu.
Comments:
Note: You must be logged in to add comments
Very delicious curries with lunch specials running about $5. They have very fast service and good portions of food. Vegetarian and seafood options are available. Curries include red, green, and yellow varieties. Their spicy heat scale is allegedly "taken more seriously than other Asian restaurants'", so caveat emptor.

---
2006-08-31 12:16:46 Esan is my favorite Thai place in Rochester. The dishes have plenty of fresh vegetables and herbs, though I have not found their dishes to be very spicy. —EllenKelsey
---
2006-09-18 06:54:35 I have always had good food at Esan. It's one of the best Thai places in town. I have however ordered most of my meals to-go. On the few occasions when I have eaten there, the service has been fine. —ZedOmega
---
2006-09-18 08:56:05 My favorite Thai food in Rochester, the service is instant and very good. I highly recommend it. —TravisOwens
---
2006-09-28 18:25:49 I get my curries at 4 star and then add the hot sauce they have (the fresh chilli peppers in fish sauce..a pungent and spicy combination). It is delicious. Almost everything (except their fried rice..was rather lacklustre) i have tried there is great. —OneLove
---
2007-02-05 09:18:34 cheap. tasty. they will make stuff as hot as you can handle, but you have to ask. I highly recommend this place. —NjTourist
---
2007-02-06 22:46:41 Oh my God, I love this place. They have fantastic lunch specials, but their prices are always reasonable, no matter what time of the day. The waiter who is always there is so great. Super friendly and very fast. Their Panang Curry Chicken is the best I've had in Rochester. Get it 3 stars. —FattyFatFat
---
2007-02-10 21:11:16 The food is decent — The King and I is better. Not the best place to eat in when it's cold out as the restaurant is small and the door will let plenty of cold air in. I am alone in this comment, but when I went my girlfriend and I both got very ill from the food. The kitchen didn't look the cleanest. The illness was definitely from the restaurant as the leftovers caused the same stomach problems. —XanderFiss
---
2007-04-13 09:07:56 Esan is my favorite Thai restaurant in the city. Everything has always been fresh when I've been, and the service is attentive and quick. I find the space to be at a very acceptable level — the hot dishes have heat without taking away from the flavor of the dish (spice is often another way to cover up one-dimensional food). As a side note, I'm adding "the Esan guy" to my list of important Rochester fixtures. He seems to know everyone who comes in more than a couple times (he treats us like family), is beyond nice and is always happy to see you. —RochesterGuy
---
2007-04-14 10:24:10 Great food and extremely fast service. Everyone who works there is always very friendly and attentive. The food is delicious - I can't imagine anyone thinking that The King and I is better. Not only is Esan's food better, but the ambiance (cute little place on Park Ave) is much better than the King and I —JaneDoe
---
2007-04-24 16:31:43 There's one guy who is always there (the owner?) who is maybe the friendliest waiter ever. Excellent food. Their green curries shine —EastSideStephen
---
2008-09-18 22:07:58 There Food is terrible. There customer service is very inadequate. The waiter there is hot but he does not work there any more. There dishes are over priced for what you get. Its run down and old. The cockroaches i see in the restaurant tend to make me not want to eat there ever again. —harryFREAKINchu
---
2008-09-28 19:34:26 Just ate there last night for dinner and had a lovely vegetarian meal outside. I've always enjoyed the food at this restaurant. We had the vegetarian Phat Prigkin (very good!) and the Pad Thai (really good, not sweet like some other places do it, which repulses me). The Tom Yum soup was delicious, and the spring rolls were nice and fresh. Our experience and assessment is totally different than harrychu's. —KatieSchmitz
---
2008-12-05 20:47:09 Very peanuty Pad Thai, not sweet (I actually prefer the sweet kind) and unfortunately kind of gritty. The food was good, but on the whole about the same or inferior to SEA which is only a few blocks away and much less expensive. —CamDube
---
2009-08-13 13:44:38 Awesome food and fabulous service! I come here all the time. —HyunMee
---
2009-10-11 11:17:40 The food here is delicious and inexpensive during lunch. My fiancé and I went here for lunch on last Saturday. The waiter was polite, and the food came out quickly. —sneha
---
2010-02-09 22:07:41 3 years later, this restaurant continues to deliver consistently delicious good with excellent service. —OneLove
---
2011-05-01 17:55:37 Excited about it being open on Sundays now. Just had a green curry dish, which is by far the best I've had in a long time. —Sage
---
2011-10-12 23:14:52 Never had Thai food before trying Esan, and it was great! Good prices as well. Will try again. —DE
---
2012-03-10 09:16:08 Last time I went, it was honestly rather bland. I much rather to go elsewhere for Thai in Rochester. First experience I had gotten the green curry chicken I believe and the curry sauce was extremely watery and thin, the chicken was swimming in it yet somehow didn't get much of the flavor. Sadly, I don't think I'll be going back. —AGoldman
---
2012-07-04 15:21:32 The food here is delicious and extremely well priced for lunch. The red curry and the ginger entrees were excellent and the service was pleasant as always. We'll be back! —lahopkins
---
2012-07-30 15:55:18 I ate at Esan three times. The first time was unremarkable. The next two times the food was not very good, and both times for the same reason: There were fairly large chunks of raw ginger interspersed among the food. Ginger is fine, in moderation, but it should be grated. I have to say that it's not a pleasant experience to bite into a large piece of ginger when you're eating. To be fair, the last time I was at Esan was probably in 2008 or 2009, so maybe it's gotten better since then. But after two strikes against them, I vowed to get my Thai food elsewhere. —Rochester-Native