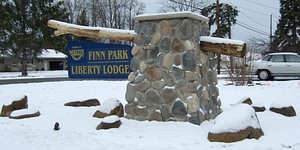 Finn Park Sign on Maple Rd - Jan 2008 - BradMandell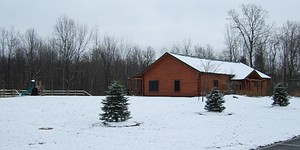 Liberty Lodge - Jan 2008 - BradMandell
Finn Park is a Town of Webster park on 50 acres hosting a trails and a lodge.
Liberty Lodge, a 2,000-square foot log style lodge with kitchen facilities, fireplace, indoor restrooms, and tables and chairs for 90 people lies just inside the park with a large parking lot. Outdoors there is a porch with picnic tables, playground, horseshoe pit and two outdoor grills.
A handicapped accessible trail runs from Liberty Lodge to Shipbuilder's Creek in the center of the park.
Comments:
Note: You must be logged in to add comments