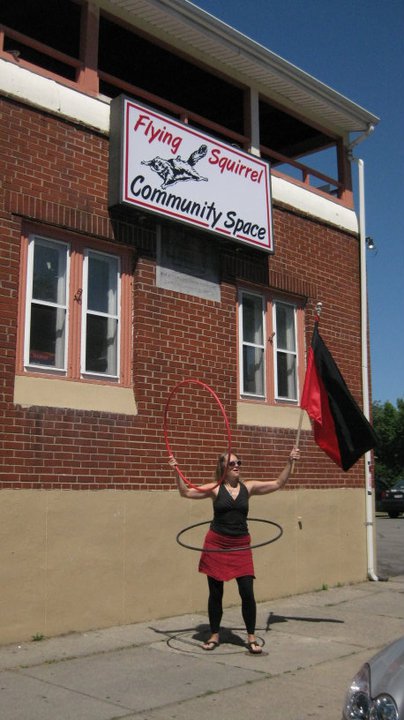 About Us
The Flying Squirrel Community Space exists to provide a welcoming space that will cultivate and sustain long lasting relationships between artists, activists, and community members in Rochester so that we may work together to create positive social change." Check out our Principles of Unity, drug and alcohol policy, and our conflict resolution statement on the website.
You do not have to be a member of the collective to host events at the Flying Squirrel. We DO ask that you read our Principles of Unity and mission statement and if both are agreeable, submit a request for a single use or an ongoing use of the space. Before submitting that request, please confer with the date and time availability on our events calendar.
Our meetings are run using
consensus and are every second and fourth Monday night of each month at 7pm at the space. If you have an agenda item please email us before the meeting or ask for it to be on the agenda at the meeting. Our meetings are open to the public; we welcome new ideas and new energy.
The history of the building is important to us and our neighbors. The Flying Squirrel used to be an Elks Lodge—specifically, the Improved Benevolent Protective Order of Elks of the World Lodge #91 Flower City Chapter and Eldorado Temple #32 Auxiliary. We recently put the 100+ year charter of their organization behind archival glass in a new frame hung in the trophy case in the large downstairs room. For more on this historic building and geographical area, read
Excerpts from the pen of Howard Griffin Sr.: The Elks Club.
Comments:
Note: You must be logged in to add comments
---
2009-12-22 12:12:28 Rocky Horror: January 23rd, Upstairs at the Flying Squirrel, The Cast of Further Indignities will present an re-enactment, at midnight.
http://bit.ly/812DgX —martingugino
---
2009-12-28 14:40:27 Rocky Horror, RSVP via Facebook
http://www.facebook.com/home.php#/event.php?eid=219409062832&index=1 —martingugino