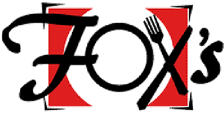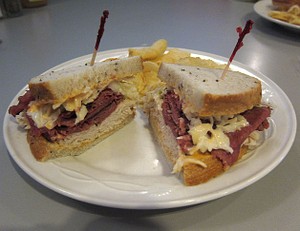 Slaw and Order Sandwich, 4-2013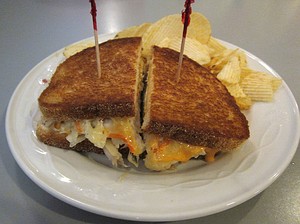 Everyone Loves Rye-man Sandwich, 4-2013
Location
3450 Winton Place, Rochester NY, 14623
Hours (as of March 2019)
Monday - Friday: 11:00AM to 3:00PM
Saturday - Sunday: Closed
Phone
585 427 8200
Wheelchair Accessible
Yes
Website
http://www.FoxsDeli.com
-
Menus
-
Feedback Page
Fox's is a NY style deli in Winton Place. Take-out and dine-in are available. The menu features a big selection of sandwiches with names drawn from show-biz and pop-culture. Also offered are soups, salads, baked goods, latkes and borscht.
Fox's isn't officially kosher. They have some kosher cold cuts in the cooler, but they have that other stuff too.
Comments:
Note: You must be logged in to add comments
See Archive Page for comments prior to 2008.
---
2008-01-26 09:55:40 Fairly decent deli, not the best though. I would not recommend the Potato latkes, They appear to be made from mashed potatoes. The potatoes are supposed to be shredded, these are clearly not so the consistency is odd. The Half sour pickles are fairly good and the corned beef is always nice and lean. —NewtonNola
---
2009-01-08 15:58:59 Good place for lunch. They serve very good sandwiches, including a corned-beef reuben, which is my favorite. —Petey
---
2009-01-27 12:52:09 8 bucks for the small Rueben I received is not a good value. Yes, it was good. But not worth the price. I will not return. —RichArbor
---
2011-02-18 20:12:02 Love this place-delicious sandwiches including many vegetarian options, excellent soups, great salads, and tasty desserts. I only wish they were open for dinner! —TrishHeckmann