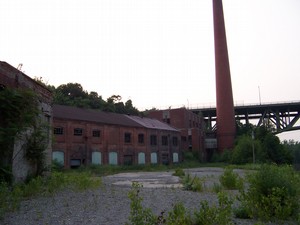 Built at the beginning of the 20th century, the Rochester Incinerator Plant, now abandoned, is often mistaken as a part of the RG&E BeeBee Station. The incinerating complex is completely intact, but is FULL of TONS of Asbestos.
While in operation, it was a garbage reduction plant that "cooked" rather than burned garbage.1

Comments:
Note: You must be logged in to add comments
---
2010-11-14 23:28:46 Couple friends and I went to explore this place this weekenk with some flash lights and painters mask. Very cool place. However, this is a very unfriendly security guard from the BeeBee station (I guess) who called the cops on us when he saw us exploring... He claimed there were no trespassing signs but we didn't see any going down there. —jewbilee
---
2011-07-28 15:28:38 very easy place to explore, just watch your step... many of the floors are unstable. if trying to explore the incinerator building, flashlights and dust masks are recommended. avoid the neighboring RG&E station. you can park in the high falls area and walk from there, or park at the little hair salon at the top of the hill, on the right heading north, though you run the risk of being towed there. ive parked there several times with no issues, and even parked right in front of the abandoned building, but security may have been tightened. —tnflnt
---
2011-12-28 12:55:20 This was part of the old RG&E dry coke plant, and I assume that it was converted to processing garbage once the coke plant was removed in about 1950. Before that, it didn't 'cook garbage', it cooked coal to make coke and 'coal gas', which was stored in storage tanks here, at a second location where the fuel tank farm is by the airport, and another group of tanks at Blossom, right by I590, where a ball diamond and an apartment complex are today.
About 30 years ago, it was an auto junkyard. —Alex-C

---
2012-04-28 16:08:01 As of 2012, only the structure in the background and the smoke stack remain. It's very easy to get in to, but it looks as if it has seen a fire or two; exploring the upper floors is NOT recommended. Some cool stuff to see on the first floor though, including the intact furnaces. Watch your step as we found an open manhole just outside the door that was pretty well concealed by the darkness. Also, security seems to be tightening up at BeeBe Station, so be on your guard. —HomelessHal
---
2014-03-02 17:30:48 Explored this with a friend last july (2013), it was really neat and we were trying to find out what it was, cool to know now! Didn't wear masks or anything o.o oh well... As the previous commenter said, the building in the forefront of the picture is no longer there. You can get in the smokestack, but I couldn't find a way up. I personally didn't run into any security troubles, but who knows maybe they're watching the place. —MonicaPatricia
---
2014-03-26 21:23:27 Checked this place out with a friend today, we drove right down to the old plant and parked right outside the gates. Walked right in with no trouble and took a lot of great pictures. Didn't have a problem with anyone telling us we weren't supposed to be there. Several trucks from the neighboring RG&E station drove past and no one gave us a bother. The building itself is in rough shape. Walked a few steps in but that's all I was comfortable going in. —noahxjohnston
---
2014-09-07 16:56:29 Went in a few days ago with some friends. Scared some people when they were walking outside and we looked out the window with our respirators on. Other than that nobody really bothered us, an ambulance was parked on the road when we got there but they didn't stop us from going in. The stairs are a bit of a mess and we had to keep passing off cameras so we could hold onto the wall and climb up. Only problem we had was that one of us is 6'5" and almost hit his head as we were exploring the first floor. —Acebycircle
---
2016-11-05 20:28:04 https://youtu.be/Vz3wqALA5EQ Her what I did enjoy —J13ohn