Interlock closed the Hungerford location ("dehydrated") at the end of their lease in the fall of 2019, maintaining a digital presence in hopes of regrouping ("rehydrating") in some of other way in-person. The rise of the coronavirus pandemic indefinitely delayed those aspirations.
Interlock Rochester is Rochester's first and only
hackerspace. Their goal is to provide members with a place to share, learn, and develop their ideas in a community environment. Members have access to the space 24/7 and can use it to store their projects, hold meetings, attend classes, or just hang out with other people doing extremely interesting stuff.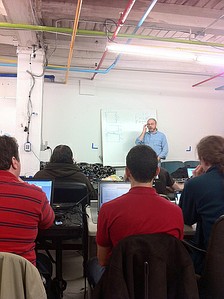 Electronics Class
Interlock Rochester is an incorporated 501(c)(3), Not For Profit organization. It started in October of 2009 by people who "saw the need to find a place where they could develop their ideas together; Rochester was able to offer the right kind of locations and the right type of people to fill it." The group was officially incorporated on December 1, 2009 and has begun the long process of becoming a Federally recognized tax exempt organization.
http://www.interlockroc.org/about/
Interlock offers free and open access to the public including hosting meetings for other organizations.
The space continues to operate based on membership dues and donations.
Comments:
Note: You must be logged in to add comments