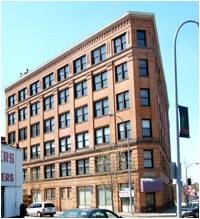 The Kirstein Bulding, located on Andrews Street in the St. Paul Quarter, was originally a 56,000 sq ft commercial mill commercial mill which got its name from the Kirstein family, of Filene's Basement fame and
Lincoln_Kirstein, founder of the School of American Ballet. The building was place on the National Register Of Historic Places in Monroe County October 4, 1985.
In January 2008 the building underwent a $4 million renovation project. Sixty new rental units were developed by Efraim Pawel.
Notes and References
Comments:
Note: You must be logged in to add comments