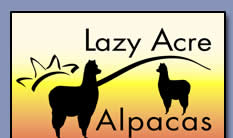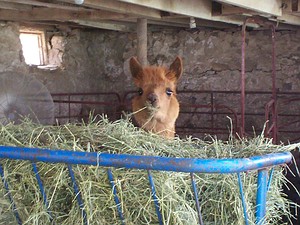 Photo Uploaded DawnNicoleJohnson
Location
8830 Baker Rd, Bloomfield, NY 14469
Hours (as of February 2011 per Website)
Tuesday – Saturday: 10:00AM to 6:00PM
Sunday: 12:00PM to 5:00PM
Tours by Appointment
Phone
585 624 5477
Wheelchair Accessible
Yes
E-mail
<market AT frontiernet DOT net>
Website
http://www.LazyAcreAlpacas.com
Lazy Acre Alpacas is an Alpaca farm in Bloomfield that specializes in huacaya alpacas. The farm also has an extensive gift shop with items for men, women, children and the home, including roving, yarn, specialty gifts and finished products. (See also Alpaca Country Clothing and Gifts.)
"Alpacas are raised for the fiber (or fleece) they produce."
Upcoming events:
Tours continue for individuals and groups BY APPOINTMENT ONLY at the farm in Bloomfield. The farm is located just North of Routes 5 & 20, in between 64 and 65 at 8830 Baker Road, Bloomfield. For more information, to schedule a visit or directions, visit the farm website at www.lazyacrealpacas.com or call 585-455-1203 or 585-624-5477.
The farm store in Bloomfield is also open Tuesday through Saturday from 10am to 6pm, open til 8pm on Thursdays. Closed Sunday and Monday. Shop by appointment also available by calling 585-455-1203 or 585-624-5477.
Accessibility: The farm and points on the farm tour are wheelchair-accessible. The farm store entrance has three steps up with a railing on each side.
Notes and References

Comments:
Note: You must be logged in to add comments