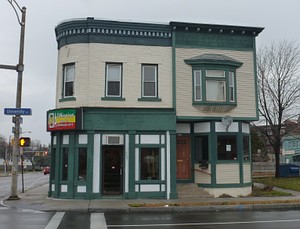 (Dec. 2012)
Former Location
302 University Ave, Rochester NY, 14607
They closed in August 2013.
Comments:
Note: You must be logged in to add comments
---
2012-11-26 22:27:49 I am very happy to say that this place is very good. My wife and I shared the Meda Special Combo platter and it was magnificent. Just opened 3 days ago now, and as long as the community supports it, this place will be a gem for ethnic dining in Rochester. Everything is fresh, and they are unafraid to make things flavorful and spicy. Inexpensive as well, I can't imagine the prices staying this low for long. —jberna
---
2012-12-09 19:03:38 I was super sad when Abyssinia closed, but I'm so happy that Meda opened! And you know what, it's even better than Abyssinia was.
I shared the vegetarian combo for two and it was awesome! The combo platter for two was enough for four and it had at least 6 different items (I think even more than were actually listed on the menu). My one disappointment with Abyssinia was that the food was always really oily - not so here. The collard greens were wonderfully garlicky and the injera was perfectly springy. The side salad that came with the combo was a nice palate refresher between bites. Service was really quick and friendly. Oh, and did I mention the whole meal was only $14? For two people! I wouldn't be surprised if the prices went up because it is so cheap! A fast-foot meal would cost more...
My only quibbles are that the ambiance is quite stark and they do not have a liquor license yet, so no Ethiopian beer or honey wine yet.
So glad we have a wonderfully delicious Ethiopian restaurant in Rochester again!

---
2012-12-17 11:36:37 Fantastic place! My wife and I went early on a Friday night and split the Vegetarian combo for two and it was one of the best meals I've had in a long time. Everything was extremely flavorfull and delicious, and the portion size was more than enough for two people. The owner and staff were all very friendly and very helpful with any questions, service was quick without being rushed, and there was plenty of seating inside. Can't wait to go back. Take note local vegetarians and vegans, this is a new great option thats opened up! —georgebluth
---
2012-12-29 22:43:56 I went here with my wife this past week and I have to say it was absolutely delicious. We shared the vegetable combo which I would recommend to anyone, vegetarian or not (neither of us are). Ever since Abyssinia closed we thought we'd never get good Ethiopian again in Rochester, but we did! —superglue57
---
2013-01-14 14:27:07 Sorry, my husband and I were disappointed. The lentils were too mushy and just didn't have the flavor POW that Abyssinia's had. The injera fell apart way too easily. The gomen was good though. After some time I will give them another try. First impressions, however, were not so good. —LoriZ
---
2013-01-14 19:39:21 Had a great and inexpensive meal there. —thomaspawlik
---
2013-01-16 14:53:43 Liked the food. One complaint tho. They would do themselves a favor by warming up the injera before serving it. My table got ours at room temperature. —tippingpoint
---
2013-02-20 10:26:17 Delicious food! My husband and I split the Meda Special Combo and it had a little bit of everything, veggie and meat, so we got to taste lots of different things for a grand total of less than $20. It was VERY busy, and apparently one of the waitstaff called in sick so there was just one man working the entire dining room. It was a bit of a wait but we didn't mind. They don't have a liquor license yet so our server said we could bring our own wine next time if we wanted to. I would go back today if I could. —shawnalusk
---
2013-03-11 17:18:49 We dined here with friends last Friday evening. The food was quite good and the prices certainly can't be beaten. I had gone to the trouble to call and make a reservation, but when we arrived the staff seemed to know nothing about it. The place was very busy but they pulled up a table by the bathroom door for us. Unfortunately the air fresheners didn't cover the sewer gas smell too well. Staff seemed a bit overwhelmed with the number of customers, and food came out slowly, but we enjoyed anyway. We will go back but probably on a quieter night. —jgerek
---
2013-08-30 14:11:01 It appears to be closed, unfortunately. —thomaspawlik