Gates
Greece
Henrietta
Macedon
Park Avenue (City)
Seabreeze Area
Webster
Address
Address
Address
Address
Address
Address
Address
485 Spencerport Rd, Rochester, NY 14606
3400 West Ridge Road, Rochester, NY 14626
1703 Crittenden Rd, Rochester NY 14623
129 Main St, Macedon, NY 14502
360 Park Ave, Rochester, NY 14607
4350 Culver Road, Irondequoit, NY 14622
27 W Main St, Webster, NY 14580
Phone
Phone
Phone
Phone
Phone
Phone
Phone
585 247 1030
585 225 7757
585 292 5770
315 986 3008
585 241 0002
585 323 1700
585 872 1990
Hours
Hours
Hours
Hours
Hours
Hours
Hours
Monday - Thursday: 10:00AM to 8:00PM
Friday - Saturday: 10:00AM to 9:00PM
Sunday: 11:00AM to 8:00PM
Monday - Thursday: 10:00AM to 9:00PM
Friday: 10:00AM to 9:30PM
Saturday: 11:00AM to 9:30PM
Sunday: 11:00AM to 9:00PM
Monday - Tuesday: 11:00AM to 9:30PM
Wednesday: 11:00AM to 10:00PM
Thursday: 11:00AM to 9:30PM
Friday: 1:00PM to 10:30PM
Saturday: 11:00AM to 10:30PM
Sunday: 12:00PM to 8:00PM
Monday - Thursday: 10:00AM to 9:00PM
Friday: 10:00AM to 10:00PM
Saturday: 11:00AM to 10:00PM
Sunday: 11:00AM to 9:00PM
Monday - Thursday: 11:00AM to 9:30PM
Friday - Saturday: 11:00AM to 10:30PM
Sunday: 12:00PM to 9:30PM
Monday - Tuesday: 10:00AM to 10:00PM
Wednesday - Thursday: 10:00AM to 11:00PM
Friday: 10:00AM to 12:00AM
Saturday: 11:00AM to 12:00AM
Sunday: 11:00AM to 10:00PM
Monday - Thursday: 10:00AM to 10:30PM
Friday: 10:00AM to 12:00AM
Saturday: 11:00AM to 12:00AM
Sunday: 11:00AM to 10:00PM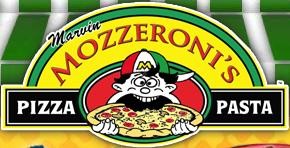 Logo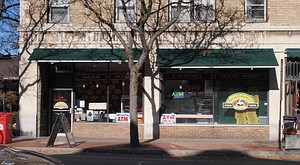 Park Avenue location, 11-2011 Marvin Mozzeroni's Pizza & Pasta is a local chain of pizza, pasta, and seafood places with take-out and delivery service. They have seven locations in the Greater Rochester area. It used to be known as Starvin' Marvin's before it changed its name for legal reasons in 2009. They also offer catering.
Their menu includes Sloppy Plates.
The Webster location has a small set of tables outside.
Comments:
Note: You must be logged in to add comments
---
2007-11-27 19:18:13 I had a bad experience, but I'm going to try to be fair. My pizza came really late (I live right by the place) and the service was rude. Honestly, it was the worst pizza I ever had (way too thick, the toppings tasted bad, etc). However, I was told by my friends who also order from there that they have been given pretty good product. So if given these things, I would say try it, but don't be suprized if it doesn't fulfill your wildest dreams. —DaveMilitello
---
2008-07-31 23:55:11 Really great pizza, but I like thick crust, so maybe thats why. Great sauce, thats what makes a pizza for me. Def recommended for those that enjoy Rochester style pizza = thick crust. —MrRochester
---
2009-02-03 17:22:38 a third location has opened on Lake Ave in the city...the philly steak pizza is awesome —CJBarnhart
---
2010-06-29 12:44:44 The Webster location make excellent pizzas. They are my goto pizza place now. The bread is thick and chewy, the sauce is tasty, and they put the right amounts of cheese and toppings on each piece. If only they could get the prices down it would be really good. —DamianKumor
---
2011-04-02 06:26:25 Just ordered a pizza from the new Park Ave. location: thick crust like MrRochester says, a nice tasty dough with a good sauce (not too sweet), but not enough cheese for my tastes. Good pizza, but if you're looking for more like PapaJohn's, this isn't it. It sure is filling, though! Maybe we'll try some of the sandwiches. Located right next to Magnolia's, so you can pick up a growler of Rohrbach's to go with the pizza. —KatieSchmitz
---
2011-04-02 06:28:38 Addendum: the review posted on 2009-08-07 matches my experience and evaluation of this pizza. Good, but not great, for me. —KatieSchmitz