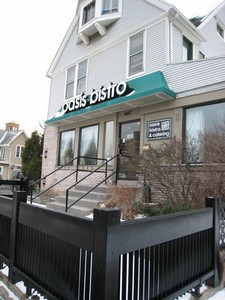 Oasis Mediterranean Bistro 1-2008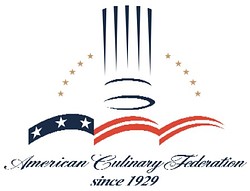 Oasis Bistro is a Proud Member of the American Culinary Federation
Former Location
687 Monroe Avenue, Rochester NY 14607
Status
CLOSED (as of September 2009)
Oasis Mediterannean Bistro (aka Oasis Bistro) was a Lebanese restaurant on Monroe Avenue near Oxford. They had a small yet uncrowded dining room and outdoor seating when weather allowed. They offered catering, casual gourmet, take out, and an eclectic menu including European, Greek, Italian and vegetarian food.
The menu had Mediterannean fare like kebabs, pasta, salads, etc.

U of R Students: 50% discount off any pasta dish with the purchase of a second pasta dish of equal or greater value and the purchase of two beverages

On September 16, 2009 a grease fire burnt down a section of the restaurant and the upstairs apartment. The restaurant is temporarily closed.
Comments:
Note: You must be logged in to add comments
---
2006-10-26 12:39:26 Their kebabs are excellent, and they come with a side of very tasty couscous with pine nuts and raisins. Nicely done homemade dolma too. For desert their baklava is very good. —EastSideStephen
---
2007-01-11 00:34:01 I had a delicious Lebanese grilled salmon dish here in the Fall—ooh the couscous!!! —AliceKimball
---
2007-01-11 09:26:32 The falafel is excellent as well. I don't know whose I like better Alexandria's Mediterranean Cuisine or Oasis. I guess it depends on which one I am eating at the time. —RxScabin
---
2007-02-05 09:10:03 This place is great. One of the few places in rochester that is worth going to again and again. Get the beef kabobs with the savory, currant laced couscous. The burgers are great too. —NjTourist
---
2007-06-06 21:11:29 Dinner here was very nice - great bistro atmosphere. Service was fast, but I should mention that the place was rather empty when we ate there.
Beef kebabs were very tasty, though they arrived well done when I asked for medium. The couscous with pine nuts and raisins, as mentioned by EastSideStephen, was delicious. Pistachio baklava for dessert was very nice - it had enough butter to give it an almost shortbread-like flavor. —NathanHenderson

---
2008-08-05 10:24:56 Amazing food and a cool ambiance. Its a shame more people dont try it here. Whenever I mention Oasis, no one has ever heard of it. Def recommended. —MrRochester
---
2009-05-09 23:21:12 great food. i think i prefer the food here over sinbads. was pretty crowded when i went. —NateMcBean
---
2009-11-18 10:00:06 I am really saddened to say that I think Oasis is gone for good. The number has been disconnected and there was a "For Lease" sign on the door last time I passed. I wish the owners and staff all the luck in the world, and sincerely hope that they'll reopen in the future. —RochesterGuy
---
2010-05-20 01:00:59 I e-mailed the address listed on their website a few months ago asking whether or not there were any plans to reopen. I was simply told they were closed due to the aforementioned grease fire; not an encouraging answer. It's truly sad to think that such a fantastic restaurant is gone for good. —AlexK
---
2010-05-20 10:42:03 AlexK, the last time I walked past there (about a week ago) a sign was in the window stating that they will be reopening as a jamaican and bbq place. I didn't see a reopening date listed. —dmarie
---
2010-07-08 11:40:27 jamaican place has an open sign on it but it sure looks barely open (empty walls, etc) —DarrenKemp
---
2010-08-03 14:03:59 Jamaican place is open, smells delicious, haven't tried it yet. I'd make a page but theres no name! —DarrenKemp