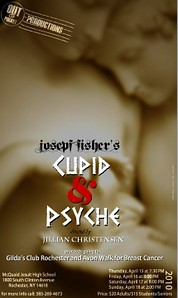 2010 Production Poster
Out of Pocket Productions was founded in 2009, see below for 2010 performance
"Founded by Irondequoit actress Stephanie Roosa, Out of Pocket Productions staged A.R. Gurney's Love Letters at Mcquaid Jesuit High School on Feb. 13-14, 2009"
New in 2010: Joseph Fisher's Cupid & Psyche, Proceeds to Gilda's Club of Rochester and Avon Walk for Breast Cancer
Show dates are: Thur 4/15 at 7:30 pm, Fri 4/16 at 8pm, Sat 4/17 at 8pm, and Sun 4/18 at 2pm.
Location: McQuaid Jesuit High School at 1800 S. Clinton Ave, Rochester, NY 14618 (near the corner of S. Clinton and Elmwood).
Tickets are $20 adults and $15 student/seniors.
- Info from an email, and a
blog on Rochester's Democrat & Chronicle
Comments:
Note: You must be logged in to add comments