Festival goers are encouraged to take advantage of free water by bringing their own containers for a fill and refill at the two Hydration Stations.
The Park Avenue Summer Art Festival is one of the largest festivals in Rochester. Everything is there, from art to food, games to wine, people to pets. Well, ok, not pets as most pets are not allowed however if they could go I'm sure they would find their favorite kind of music playing. There's rock, country, jazz, funk, blues and more.
Shop from hundreds of artists and craftspeople. Meet the artists and hear their stories.
Where, When & How

Usually the first full weekend in August


Park at Gleason Works on University and catch a shuttle
Online: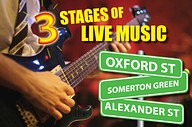 The music begins as the festival opens with more than 32 acts performing on three stages.