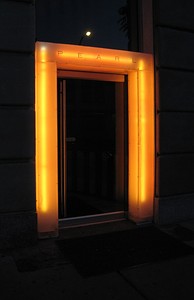 Pearl Exterior Lit at Night, 06-2008
Pearl Night Club was a night club and bar on East Avenue.

Pearl was a Night Club / Lounge in the East End bar district. It had a fairly large dance floor, with one of Rochester's better sound systems. Definitely was an ideal destination for anyone who enjoys dancing to mostly electronic music (house, electro, and techno) with the occasional hip-hop/Top 40 night. The venue hosted international DJ's on a semi-regular basis as well.

A private V.I.P. room was also available.
Comments:
Note: You must be logged in to add comments
---
2007-08-19 20:30:59 Friendly, personable bar staff. Great space, decent music. Doing a decent job of bringing a more sophisticated, Manhattan-eqsue lounge scene to Rochester, especially in the college bar heavy scene of the East End. However, on our recent visits, we found the mixers to be very watered down.
Still, the place seems to have potential. Look forward to giving it another try on our next visit upstate. —JoshFritsch

---
2008-06-17 10:21:42 Good music and the space is still modern, now with touches of retro. The crowd is mixed, but often leans towards people with a Euro trash vibe. —MrRochester
---
2008-12-19 22:26:43 @ MrRochester - what does euro trash even mean ahaha? ahem... the crowd is mostly the east end mixed bag of musclebound gotti boys, blond over tanned anorexics, college drinkers, upper scale well dressed 30 somethings, and electronic music lovers. I think thats a bit more acurate... —realtalkroc
---
2009-05-20 13:48:21 oh god, these last two reviews are so accurate as to the crowd. i remember this as a much more fun place to go a couple of years ago. still like the music, drinks and prices—it's that crowd you've got to consider. most people i talk to either love it or hate it. —Leisel
---
2009-12-25 19:14:11 I have to second Leisel on the crowd description. They are spot on. This club is much more laid back than the others in the neighborhood. Fantastic music and a great place to hang out with friends and sip on a drink while listening to your favorite electronic music. You probably want to go someplace else if you are planning on bumping and grinding the night away with someone you just met. The dance floor can be pretty sparse. —JohnBugajski
---
2010-11-28 21:15:16 Seems to be the highschool hot spot on Thursdays.
PS)just because a blonde girl cares about what she looks like and goes to the gym and is not a fat slob doesnt make them anorexic. —HappyResident4

---
2011-09-09 02:07:20 Thursday at 1:00 is not happening. The DJ seemed pretty good and the club it self was pretty cool - the light effects were great and the decor pretty classy. There's plenty of lounge seating but a very small dance floor. No one was dancing and the crowd was overall pretty sparse. The majority of people were muscle bound guys. The bartenders were attentive and quick. —eklie
---
2012-02-01 13:11:23 Worst club in Rochester do not waste your time its small service is a joke and pretty sure they are raciest there bounced where very rude had to wait a your for some drinks in outrun this comment as a person that does not work there cus in 100percent sure the people that put good comment about the place work there but dealt go anywhere else but thereunder in Rochester my whole life and went there once and never will go back —andreocasio