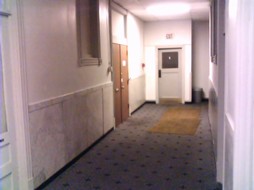 Door to Photo Source by TomMaszerowski
Enter the old Cox Building and you first smell the mildew. With some measure of anticipation built through years of rummaging through antiques, first calling and then riding up the old elevator, then searching each door for the small label bearing the name of its occupant, and knocking to gain attention and be admitted, you then smell the cigarette smoke. Over thirty years have passed since the American Lung Association began winning the struggle against smoking, especially in public accommodations, but even here the chain-smoking proprietor brings you back in time.
As a consignment shop, the Photo Source sells whatever local, impoverished, and probably aging photographers must sell from their inventory of gear they seldom use or cannot justify keeping. Each item bears a sticker with the price and the seller's initials. Know your local professional lore, and guess who's selling hardware. The heydays of photography when hundreds of companies specialized in small market segments passed not so long ago, and this local store bears telltales for knowledgeable historians that many of these companies and their employees once existed here, once the world's imaging center. The Photo Source is also an archive of obscure lenses, bodies, winders, cassettes, cases, straps, filters, projectors, trays, clamps, enlargers, meters, lamps, tripods, heads, strobes, slaves, softboxes, stands, umbrellas, medium format and 35mm cameras, odd truffles and junk working photographers no longer deem valuable, along with the occasional jewel.
To visit, Dick prefers you call first. The hours can be irregular. Also, register by e mail for the bimonthly flyer, which is also on the website.
See also: Photography
Comments:
Note: You must be logged in to add comments
---
2005-12-22 02:48:28 Bree says this place is amazing. —TobinFricke
---
2006-01-04 18:59:07 I think the above write-up is generally accurate but much too negative in tone. I like and agree with the imagery of "stepping back in time," but the American Lung Association sentence and in particular the phrase "photographic swine' are, I think, inappropriate. —TobinFricke
---
2006-01-16 18:56:23 I softened the tone. I visited it myself and while the smell was noticeable, it wasn't worth the editorial —TomMaszerowski
---
2006-01-19 17:12:29 Agreed
however appropriately well it mirrored Raas' cynicism toward philistine photographers, reflecting on "pearls before swine" was too obscure and opaque. My hour-long visit did, though, leave me reeking of smoke! —JohnLam

---
2011-03-20 22:52:45 Born and raised in the ROC, I moved to NYC a few years ago. I still go here at least twice a year and find amazing deals and legendary advice and stories. FYI, Dick quit smoking last time I visited and took up electronic cigarettes. Love this place for everything, 35mm, medium format, 4x5's, video, and even some digital things. Definitely worth a look before ebay or CL. —jhnylake
---
2013-03-02 13:30:14 Stopped by for the first time today. Went in to get a cheap light meter, and came home with a Pentax K1000. Dick was incredibly kind, helpful, and took the time and patience to answer any questions I had. I couldn't be more happy with my purchase.
FYI, they are a cash only business, but there is an ATM at the convenience store next door. —rochesterguy