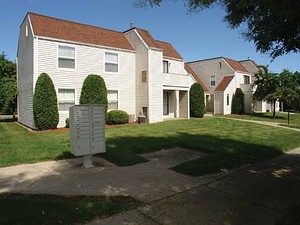 A view of some Riverton Knolls apartments.
Riverton Knolls is an apartment complex in Henrietta offering units ranging from studios to three-bedroom townhouses. Many amenities are provided for residents, including cable TV, a swimming pool, basketball and tennis courts, and paved jogging paths. Dogs under 100lbs and cats are allowed but you need to bring their documentation to the leasing office and pay a small fee per month.
Comments:
Note: You must be logged in to add comments
---
2008-07-18 12:02:10 Riverton Knolls changed management in December 2007 (from Home Properties to Morgan Communities), and with the change in management came a lot of (negative) changes in policies. Morgan is a new management company, so they don't have the experience of an older management company. Therefore, they weren't as accommodating as Home Properties was. For example, we could no longer pay our rent at the office—we had to either mail a rent check to their processing center, or pay online. And when we moved out, we had some stains in the carpeted dining room (worst flooring idea ever—how are you supposed to not spill in the room you eat in?). We were told that Morgan uses a different carpet installer, and that they would have to charge us to replace carpets in the entire two bedroom apartment, which was a higher cost than our security deposit would cover. Little things like those two examples added up to be a big headache, and for the money ($1100 for a two bedroom townhouse), I just didn't think it was a great value.
On the other hand, the facilities and location are great. It was about 7 minutes from RIT where I attended, and now that I've moved out I miss the walking paths, athletic fields, and ponds, so I guess you have to weigh all factors when finding an apartment. —AlexanderGartley