The Rochester Association of Performing Arts (RAPA) is a nonprofit organization that provides Rochester's music, dance and theater students with training in all three departments. They specialize in educating youths of all ages in dance, acting and vocal. Classes are available all year long, as well as many other opportunities. They are a member of the Arts & Cultural Council and listed as one of their
performance venues.
RAPA is now the managing company of the Kodak Center for the Performing Arts. Please visit
http://www.rapatheatre.org for more information.
Located in Maplewood.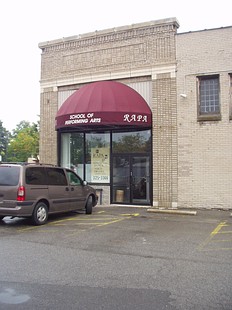 Main entrance of old location at 727 East Main Street.
Comments:
Note: You must be logged in to add comments
---
2007-12-25 00:34:43 Can somebody verify if they have closed? —TravisOwens
---
2008-05-23 09:41:53 Not dead yet, but looking dire according to
today's D&C. —Users/RyanTucker
---
2009-08-04 20:33:42 They have a complete 2009/10 class schedule published on their website. —BradMandell
---
2011-01-26 10:28:54 The facebook site is way more reliable and gets updated at least once a week. plus they have the season schedule and their class lists. —JessBates e

---
2013-11-16 13:44:35 We have not closes. RAPA is open and growing in the Rochester community. —EricJohnson
---
2015-04-29 10:53:27 This info is totally out of date. RAPA is at the Kodak Center for Performing Arts, 200 Ridge Road West 14615. RAPA is bigger than ever and very strong in the Rochester Theatre Community