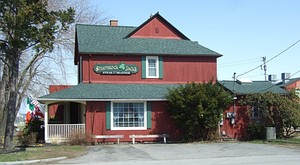 Photo March 2009 - BradMandell
Location
4554 Culver Rd, Sea Breeze, NY 14622
Dining Hours (as of July 2023 per website - pub is open longer)
Monday - Tuesday: Closed
Wednesday: 11:30 AM to 8:00 PM
Thursday - Friday: 11:30 AM to 9:00 PM
Saturday: 12:00 PM to 9:00 PM
Sunday: 12:00 PM to 8:00 PM
Phone
585 323 9310
Accessible
Info Needed
Alcohol
Yes
Email
<dpetz AT frontiernet DOT net>
Website
https://shamrockjacks.com/
Facebook
Shamrock Jack's is an Irish-themed bar and restaurant on Culver Road, in Irondequoit's Seabreeze Area. It was established in August 2002.
Comments:
Note: You must be logged in to add comments
---
2007-07-24 03:52:08 Nice little place to eat & drink in Seabreeze. —TriciaSeymour

---
2008-01-27 08:50:57 I have too much to say for 1000 characters. Let me know if this should be moved:
Myself, My wife, and a friend went here for dinner last night, which was our fourth and most likely last time ever trying to give this restaurant a chance.
When we arrived, the bar was very busy, and they had only one booth available in there. Given the short notice and our hunger, we decided that the bar would be fine even though the front door has no buffer to the cold so every time someone came in the front we got a chill (this really didn't bother me until the incoming band propped the door to move equipment). Our waitress was busy but very courteous and informed. She even warned us that they had a party of 30 about to be seated and would try to slip our order in ahead of theirs to avoid a long wait. The beer taps in this bar stay pretty much the same. They have a "custom" made by CB's, a CB's seasonal, and of course Guinness. (which they do serve very well!)
We ordered a round of appetizers and soups to start. Our shrimp cocktail had large, well-portioned shrimp. We also got the Clams Casino (which I probably haven't had in 20 years) that was really good! I ordered their French onion soup, which was over-salted, had about half of one of their stale rolls taking up most of the real estate in the crock, and a HUGELY thick slab of cheese locking it in. It was not very good and was the beginning of our downslope. My friend got the seafood bisque which he really did enjoy.
Then our entrees came, but not all at once!
First my hamburger arrived, all by itself. I felt a little uncomfortable sitting with a plate of food while my wife and friend sat with nothing, so I waited politely for the rest of the food to get served. I waited several minutes before my wife's Lobster Ravioli arrived, and then it was at least another 5 minutes before our friend's "craby steak" was delivered.
And this is where they really failed. I know what a busy kitchen is like. I worked in one throughout high school and college, first working as a dishwasher until I was promoted to salads and then the line. I know firsthand what a rush is, and when you get THIRTY PEOPLE ordering all at once, your line is going to get slammed and its possible that the quality of food and service will suffer for it. This is what I think happened with our meals, Which is amusing because the last time we were there we had a bad food and chalked it up to being "too slow" on a Monday.
My Cheeseburger, which appeared to be a pre-made patty, was grossly undercooked. I typically order things "Medium Well" because I can tolerate eating something that is less pink than ALL pink. It was my first try of their burger, and my last. It was, simply put; horribly prepared and served without conscience. However, due to the circumstances of the moment, I kept my mouth shut and endured in order to keep what was happening at our table from blowing up (more on that in a minute). My wife's pasta looked good, and she said the raviolis tasted good, but you could see the oils separating from the cream in the sauce when it was delivered, a sure sign that it was probably sitting under a lamp for a few minutes.
But the coup de grace was this "crabby steak" which they should have swapped the letter b for p!
When this steak arrived, it looked appealing. A NY Strip that was supposed to be topped with crab and lobster meat in a lobster cream sauce.
However, upon making his first cut, the poor cow bled out all over his plate. His "Medium Rare" steak was ALL RARE. This rather upset our friend, because he just ordered a $22 plate of undercooked food, and has a fear of sending items back to the kitchen because he worked in food service, just like I did. We discussed this at the table, actually. And his concern was "how do you scrape of all that crab/lobster and re-cook it?" As we were talking about this, someone who was not our waitress came to our table and asked about the untouched steak sitting at the end of the table.
"Is there something wrong?" He asked.
"Yes, it's practically raw and that's not how I ordered it". My friend said fairly nervously. This person said he could "heat it back up for him" but he really didn't want it at this point. He was nervous about what might happen to it while it was back there supposedly being reheated. I don't agree with his fears, but I understand them and tried to put him at ease.
The man had returned with his steak, and at this point my wife and I had already finished our meals (or as much of them as we could tolerate, honestly). The steak looked like it was run over by a truck, thrown on some charcoal, and then given another "splash" of this rather overpriced topping. I could tell by the look on his face that he wanted it EVEN LESS at this point. What made this situation even more uncomfortable, however, was that this guy who wasn't our server was standing behind my friend, watching and waiting to see what he would do. I really didn't understand this at the time, but it seemed he already had it in his head that we were going to "rip him off" by not wanting this poorly made $22 entree.
My friend, hopelessly frustrated (and still hungry) looked at the steak, poked at it, and then tried the topping. It was quite obvious he didn't like it, but here's where his discomfort colluded the situation. He turned and asked the manager for a menu. This guy (a manager?) promptly returned with one and resumed his uncomfortably rude stance behind him. My friend then explained that the dish had no lobster on it, and the manager got very mean and confrontational.
I can't remember all the words that were exchanged, but it was rude, confrontational, and quite frankly nothing I've ever experienced as a customer anywhere before. When he walked away, he made a comment about how "we were going to pay for it because of our attitude".
Now, I had been biting my tongue throughout this whole situation, partly because I was uncomfortable, and partly because I really want to like this restaurant. Unfortunately I was giving them too much credit. So I got up from our table to seek out a manager to talk to. I found an older woman who seemed to be holding the front-end together and asked her if a manager was available. Her first reaction was to get the person we were having an issue with. When I explained our situation, and that regardless of what he says, we wont be paying for that entree her response was "well... he's the manager and one of the owners so I don't know who you can talk to.
Really? This man who was rude and crass to patrons has a financial interest in this company?! I don't think he realizes how his disposition reflects on the entire establishment. I stated that we weren't going to pay, and she should probably tell someone in case this gets ugly. I returned to our booth, and the extremely rude manager/owner returned a couple minutes later. He DID remove the entree from our bill, but not without giving us a LARGE amount of grief for it. During the confrontation, my friend mentioned that he had a degree and training in food service and have never seen such a display. Some other words were exchanged without the manager/owner giving us any chance to explain why we shouldn't pay for their poor food, but the final comment from him was:
"Yes well, I know how YOU PEOPLE ARE".
Us people??? Are you serious?!
I didn't know whether to laugh or be offended. We were three middle aged white people dining at his establishment. What kind of PEOPLE are we?
WHAT THE HELL WAS HE TALKING ABOUT?!

---
2008-06-03 22:23:16 Thank god for you and your review, and honestly, good for you. I've never eaten here, and now, never will. My favorite is the assumed sense of praise that these people think they deserve.
I've worked hard my entire life, and started as a cashier at Wegmans when I was 15. I also worked in a restaurant for a year busing, dishing, hosting, and expediting. I know how you feel. Poor customer service is despicable and unforgivable. —VinceC

---
2008-11-29 23:56:10 great food. great service. great atmosphere...all around GREAT restaurant! No complaints whatsoever. Incredible steaks and very well priced. Always my first recommendation to friends. —TaraStevens
---
2008-11-30 19:07:24 If you are a sloppy drunk you will love this place! Everyone is related to the owners and they have no moral compass which makes for a long evening if you are drunk and have some time on your hands. The owners are very gracious, even having you in their home for a "night cap" married or not. Very classy place! —Stacy
---
2009-01-11 17:34:15 great food! very friendly atmosphere —JonathonEngles
---
2011-01-24 09:00:42 I have been here many times and love the place. My favorite in Rochester. The boneless wings are the best in town (my opinion) and the prices are reasonable. I've been here on both slow and busy nights and will admit that the wait can be slightly long on the busy nights. However the food is more than worth the wait. I would highly recommend this place to anyone. —Andrew88
---
2011-07-22 14:23:12 I didn't want to try Shamrock Jack's cause of this Lance guys review. We joined another couple there for drinks at the bar and dinner. I was blown away.I have never meet nicer staff ever. Everyone was super friendly.The bartender was very very welcoming as were the regulars sitting next to us. The food was out of this world. Stuffed Haddock and Prim Rib to die for. The server was the nicest guy!!! I believe there must be another side to Lances story or it was grossly exaggerated. Sorry It took us so long to find Shamrock Jack's But we will be back. I rate it a 10 a home run......
Someone else left Lance a remark I'd like to share.
You should probably not spend so much time writing essays, bashing well respected restaurants, giving them a bad name. Just because you worked at a Wendy s for a couple years as a teenager doesn't make you anything special. Oh, and when the manager at shamrock jacks refereed to you as "you people" he was referring to the type of people that are just looking for a free meal, and something to complain about, because they have nothing else going for them. You got a bad meal.. so what. it happens. I could go on but unlike you i am not about to spend the next hour of my time spell checking and re-reading an insult that i shouldn't even have written in the first place.
And if you are going to go out to eat just to complain about what you are being served, i suggest taking a trip to Wendy's where you are guaranteed to get what you payed for. — —Ellen

---
2011-09-27 17:28:11 We went there for dinner a couple of nights ago. I went with a skeptical attitude because I read the negative reviews about this restaurant after I had made this groupon purchase. We were welcomed in and seated immediately in an area out of the bar. The service was excellent,the food was great and the menu prices are reasonable. We enjoyed trying several 14 brews on tap.... Overall a great experience. I'm sorry we didn't try this place years ago. That's the great thing about groupons.... trying places you've never heard of. Would recommend. —ACW
---
2012-02-02 22:50:48 Sham-Rocks! My buddy takes me here about once a month. The staff are a happy bunch and set a positive mood. The food is killer. When I walk in I want to eat everything because the place smells sooo good. For people that complain about waiting for table... Well good food is worth the wait. The people before you waited and the people after you will wait. Go to the bar and get a cocktail-beer-soda or water. Relax. If you want overcooked beef, a quick table and rude service, come to my neck of the woods on Titus-Cooper if thats your game. That very long opinion on Shamrocks made me think that certain people are trouble no matter what service or job that we do...You just want to run to the hills. I wish I got paid for reading that long rant. —jkuk
---
2015-01-18 10:39:53 I will NEVER return to shamrock jacks again. I used to like the place but 3 bad meals in a row is enough for me and my family to not go back. Our server did the best should for as busy it was. I don't think the under trained cook is qualified for a busy restaurant. And why this microwavable food could make this place so busy is another question on my mind. We waited for ever for our entrees which were either very bland or under cooked. When we spoke to the bozo manager he was very rude and didn't want to please the customer. Members of the staff( managers / owners) seemed to be to intoxicated to run a business. And they are easy to tell who they are because they do not do anything while the over worked staff picks up their slack. The server returned our food to the kitchen but came back out cold and in the same state it was in went it got sent back. I wouldn't even eat after that. I have seen the quality of this place drop consistently in the last few years and this was the last straw. I can give a restaurant credit if they made a mistake and correct it courteously. But the manager seemed to only make matters worse with his rude attitude. I felt bad for the waitress because it wasn't her fault but the manager seemed to make her feel like it was her fault. Something that customs shouldn't witness at the table. If you are looking for a nice friendly family restaurant with good food this not the place to go anymore!!!! And what kind of owner sits at the hostess stand drinking wine all night when there are problems to be taken care of??? —AlbertBruno