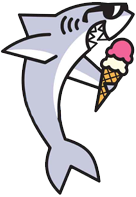 Location
50 State St, Routes 5 & 20, Bloomfield, NY 14469
Directions:
(Google Maps)
Hours (as of December 2013)
Tuesday-Sunday: 12:00PM to 9:30PM
Only open May thru September
Phone
585 657 4429
Wheelchair Accessible
Yes
Website
http://www.SharksIceCream.com
Shark's Ice Cream is located in the Village of Bloomfield. It serves homemade ice cream in a wide variety of flavors in your choice of a regular cone, waffle cone, waffle bowl, or in a dish. In addition, to ice cream, Shark's now serves hamburgers, pulled pork, Zweigles hot dogs, and a Shark Attack plate.
Comments:
Note: You must be logged in to add comments