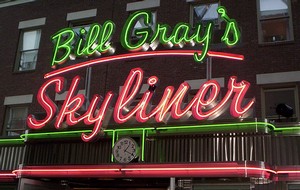 Bill Grays Strong Childrens Museum Location
Skyliner Diner, located inside the Strong Museum, is a retro-style diner that serves lunch and dinner daily.
History
The diner building was originally purchased and brought to Rochester by the former owner of the Highland Park Diner, Bob Malley. The diner was originally on a site on US Route 15 in Trout Run, PA. The diner sat, partially enclosed in plywood, in the parking lot at the corner of University Ave and Culver Road for several years, as Bob tried to find a reasonably priced property to put it on. Sadly, he never did, and the diner began to deteriorate. Not sure who approached who, but eventually a deal was struck to sell the diner to the Strong Museum. The museum restored it, and Bob bid on the contract to run the diner but was not selected. It was first run for a while by Marriott food service, and is now a Bill Gray's. Kind of disappointing, however the good part is that an important part of American history (the stainless steel diner building) is safe for future generations to see.
This diner was manufactured by the Fodero Dining Car Company in New Jersey, in 1956. It would have been transported by rail, and then by truck, to the original site in PA. That method of building (in a factory) and transportation is why diner buildings are always long and narrow.
Notes & References

Comments:
Note: You must be logged in to add comments
---
2023-02-08 13:59:58 In 1997 or so, folks at the Strong Museum knew I had purchased a diner and offered me the stainless vestibule from the Skyliner (they were not going to use it in their lobby installation). I rented a trailer and drove to Rochester. they had a crane lift the vestibule onto the trailer and I drove back to Massachusetts. I got the vestibule off using tow straps and ramps. Eventually I hired a woodworker and we removed the stainless, rebuilt the wooden structure, and married the vestibule to my diner. —BrianBram