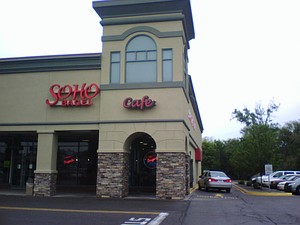 SoHo Bagel Cafe, June 2008
SoHo Bagel Cafe is a bagel and coffee shop locate in the heart of Greece. They pride themselves on their quality bagels, sandwiches, custom cream cheese flavors and coffee. In addition to their friendly, comfortable atmosphere SoHo Bagel Cafe offers free wireless internet service for their customers. Drive-through, catering and wholesale services are also available.
They serve
Green Mountain Coffee and offer variety of espresso, and fruit smoothie drinks.
Their current cream cheese flavors:

Plain


Light Plain


Vegetable


Scallion


Garlic & Herb


Olive & Pimento


Jalapeno


Smoked Salmon


Mixed Berry


Honey Walnut


French Vanilla


Peaches & Cream
(Formerly run under the Manhattan Bagel franchise name - same owner, just a different name. No association with SoHo East club.)
Soho Bagel products can also be purchased at
Connections Cafe in Rush Rhees Library at the University of Rochester.
Comments:
Note: You must be logged in to add comments
---
---
2007-09-27 14:13:08 Very comfortable seating arrangement. My son goes to school nearby, and reports it is a favorite of the HS crowd. —MrPhil
---
2007-12-08 09:07:01 Food and service is excellent. We've been enjoying breakfast there for several years; also the occasional lunch — and we will continue to do so. —MarySmith
---
2007-12-08 13:47:12 If ever you'd like a takeout, or to relax in a family environment, So Ho's the place to go. The variety of bagels, sandwiches, drinks and other refreshments are great. The service is topnotch. My wife, friends and I are regulars—Joe P. —MarySmith
---
2008-06-15 12:01:40 Ryan Tucker, myself and Dave Mahon went here Saturday for an interview for Computer Link Magazine about RocWiki. VERY nice place! —PeteB
---
2008-09-22 00:06:52 They treat you like you're their best friend - or family! I'd much rather buy my coffee here than a chain or franchise. The owner is sooo nice and he greets you and even will come over and sit down and spark up conversation with you! A very well done, locally owned family business. —JustinZiemniak
---
2009-04-30 17:54:09 I was standing at the counter waiting for my sandwich when another employee came up and asked the guy making it if he was "taking care of that" referring to me. As if he was referring to some trash that needed to be taken out or a mess to be cleaned up. He was rude and I felt like shit. I left no tip and will never return. Too many other restaurants out there anyway and the food was only marginal. —ihh
---
2009-05-21 16:40:38 ihh: That sounds very uncharacteristic of the service there. No offense, but it sounds like you took something personally that wasn't directed to you. —RichardSarkis
---
2009-06-20 08:32:22 rrruuuuff, rrruuuuuf, best bagels in town AND great corgi treats too. Me and my driver use the drive up every weekend. I LOVE SoHo bagels! My driver does too! —JackJohnson1
---
2009-07-01 16:25:20 stop here every week after hiking with my dog, the staff are beyond friendly and the food is great!!! They always have treats for my dog making this a top place for us to stop. If you want great food and fantastic service and friendly staff you should be stopping here too :) —Keri
---
2009-10-25 14:06:28 Okay I just wanted to give a personal plug to this bagel shop. I have been here several times over the past few months and not only is the coffee tasty and the bagels like non other the service is very friendly. I enjoy having my meetings here and will continue to do so. I also wanted to give a plug for the pumpkin cream cheese its out of this world. Keep up the great work SOHO'S Cafe!!! Tracy —tracyleigh
---
2009-10-26 15:59:03 Love this place. The atmosphere is relaxing and the food is delicious! I drive in from the city just to have my Vanilla Chai' made by Elias...it's like non other! —StephanieLynn
---
2009-11-20 13:50:10 Ordered a grilled chicken sandwich from Soho this noon for lunch - my husband picked it up for me and brought it downtown to WXXI where we enjoyed the sandwiches ordered immensely - mine was still hot - moist and absolutely the freshest bread I have ever had on a sandwich. You must try this eatery - one of the best for the price - Karen @ WXXI —KarenBuesing
---
2010-03-06 18:03:53 This bagel, sandwich, salad shop is the greatest! I would call it THE neighborhood sandwich shop. Everything is made fresh while you wait. And the wait is well worth it. A Great lunch spot to break up your busy work day. You always leave with a smile on your face. Go there and check it out for yourself. —AmyD
---
2011-05-24 16:22:17 Wow. I have been going to Soho Bagel Cafe for years now. Just today I went and I had the WORST experience EVER! PLEASE READ THIS!!!
I went there to day and the owner (curly haired guy) "took care of me". He took our order and then some lady came in and started talking to him. He totally forgot about us and said so to us!! Then, he started a conversation with me because I mentioned that I am Greek and he said, "I'm sorry". Then, he started talking about how I'm going to burn in hell because I haven't gone to church lately.. This is NOT how you should talk to a paying customer!!
... Then... THEN the worst part. As he was cashing us out I noticed that he typed in $4.00 on the register and THEN started putting our order in.. The total came o $17.03 for a breakfast bagel ($3.79), chicken gyro pita ($5.99) and a Snapple.. He overcharged me $4.00 and never even gave me or asked me if I wanted my receipt! I used to LOVE this place, but after this experience I started wondering if he ever overcharged me any other time and if this is a habit of his...
Unbelievable. BBB here I come!! —casale2a

---
2011-06-22 15:23:19 I know the owner personally, and this situation was a complete misunderstanding. It was being handled civilly last I knew. The above comment by casale2a should not be taken seriously at this point.
If you have doubts, please stop by SoHo Bagel and talk with the owner yourself. —RichardSarkis