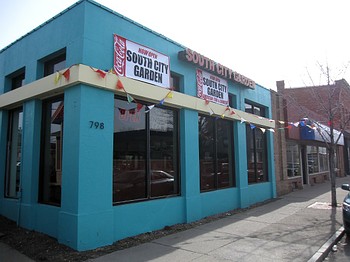 South City Garden on S. Clinton Ave, 4-2010
Former Location
798 South Clinton Ave., Rochester NY, 14620
Status
CLOSED (as of April 3, 2011)
Comments:
Note: You must be logged in to add comments
---
2010-03-26 23:22:46 American, Thai and Chinese Cuisine.
My husband and I wandered in this week to look at the menu of this restaurant that just opened. We were delighted to find out that it is co-owned by our favorite Southwedge chef, Tam (formerly owner/chef at the Southwedge and before that, the Highland Park Diner) who has teamed up with a new partner (and chef) named Simon. Naturally we came back within a few nights for dinner. Our waitress, Sara was enthusiastic, smart and attentive.
My husband had the fish fry — a real fish fry!! which he said was crispy and light, cooked perfectly, with creamy mashed potatoes and coleslaw.
I had a bowl of the Tom Yum Seafood soup with Fresh Shrimp Spring Rolls. First, I always taste the broth (for me the mark of a good soup) which was just the right balance of flavors; sweet-tangy-saltiness with "umami" and a little bit of heat. My bowl was full of tender pieces of white fish, shrimp, squid and some vegetables. The spring rolls tasted fresh.
We shared a strawberry-rhubarb pie with vanilla ice cream. Bright sweet-tart and vanilla creaminess filled my mouth with flavor. We are not usually desert people and weren't really that hungry anymore, but soon found ourselves dueling with our spoons for the very last bite. YUM.
These guys can cook. ...Here's the love.

---
2010-03-27 13:28:15 Went this morning for breakfast, nice selection of omlettes, good service, nothing fancy just basic diner type breakfast. We enjoyed it, hope they do well. —DottieHoffmann
---
2010-04-03 14:34:09 We went this morning to visit Tam the owner/chef and our favorite former server from South Wedge Diner, Toni. Great diner-style breakfast - eggs, bacon, killer homefries, and toast. A nice option is that they substitute fresh fruit for potatoes or grits at no cost. We are converts and will be back every week from now on.
Note that this is part diner and part Asian restaurant, with diner-style breakfast and lunch options (e.g., burgers, wraps, salads, sandwiches), and then Thai/Chinese/Vietnamese lunches and dinners. Have not tasted the Asian food yet, but we are going soon. —JGerek

---
2010-04-03 16:50:41 We went on Thursday for a late breakfast. Everything was very good. The grits were excellent. Until the wonderful waitress told us that "they would be glad to make artichokes French" although they are not on the menu, we were having trouble deciding between South Wedge and South City. Now all we need to know is if the vegetarian burger is house made. Why didn't we ask? I do not know. —RxScabin
---
2010-04-04 21:27:49 This is in the former location of Sahara, and before that Basha. My dining partner and I both got thai dishes. We shared fresh shrimp spring rolls, which were decent but not the best we've ever had. I got basil yellow noodles with tofu. It came with plenty of fresh vegetables and tasted fresh and light. My dining partner got the evil jungle prince with chicken, which tasted just as good as the same dish at "King and I". This location doesn't seem to do well with keeping restaurants open, so hopefully this one lasts. We'll have to go back and try the american fare next time. —DanetteFitzgerald
---
2010-04-12 14:34:48 Just what that neighborhood needed: another pan-amer-asian place. Isn't Ming's Noodle, Highland Park Diner, Flavours of Asia, and South Wedge Diner enough??? Come on, that area needs a GARDEN Supply place before another similar restaurant siphoning off clients of established places. Talk about sustainability. Why didn't this Tam person stay at HPD or SWD? Is she/he creative enough to change things or do you see the same items popping-up again? I grabbed a menu to review. A place serving so many items can never do anything well. We hope there's enough fresh product to outweigh the frozen (kitchen nightmare). Where do those neighbors go for French or Italian or Mediterranean/Middle Eastern? ANY other type of cuisine in this venue would have augmented. [N.B. We do not own a restaurant nor have friends that do.] —URalum
---
2010-04-25 09:28:05 I had lunch at South City a few days ago. Needless to say, I was not impressed. I travel to Highland Hospital a few times a month for work and previously had lunches at the south wedge diner which is located down the street. Always enjoyed my meals there until recently when the menu changed and the food quality went down a great deal while the prices went up. I didn't mind the previous owner of the south wedge but after hearing that he sold the south wedge diner to a friend and opened a new restaurant down the street I was disgusted. My grade for the place is a D+
---
2010-04-25 20:10:18 I was here recently on a Sunday for lunch. I got the tom yum vegetable soup and the basil chicken lunch special. My friends got the banana french toast, cinnamon french toast and corn beef hash. They greatly enjoyed their choices. I had low expectations for Thai at an American-Asian diner yet the basil chicken turned out to be decent. The tom yum soup was very diluted - I couldn't taste anything. The veggie spring roll was hot and crispy. Although it was quite far from the best Thai I have ever had, this place is still a good option for when everyone wants something different. —OneLove
---
2010-05-02 02:00:03 The owner if this place isn't Tam. No idea why people are saying this...doesn't matter about the owner, or it's history, it's about the food. And this place has it. Who cares about how owns the place or Tam's background...that's just adding drama to the situation. What's important is the food. You're going to a restaurant to pay for some good food.
I have to say, the food here is "pro". Nothing beats their fish fry and spring rolls.
I came back a second time and my mind was blown away at the tum yum beef. Wasn't spicy enough for me (though I can eat spicy...a lot)but I've never had anything like it, can't explain it, you'll have to try it yourself.
---
2010-08-03 11:36:25 I don't care who owes what to who. The food is damn delicious and inexpensive. Although Mamasan's spring rolls are still the best in town, South City Garden is my go-to for Thai. —RichFlaherty
---
2010-08-26 11:34:29 I wish him well. —Angry
---
2010-12-10 15:32:19 I actually like this guy's pad thai better than the other Asian option down the street (Flavors of Asia). The pad thai - even just a $6 lunch special - is served with rice and a spring roll. They have a huge menu and I've loved everything that I've tried. The servers are friendly and know me by name and they always remember what my friends and I like. I've only had one complaint ever - they under-did my last quesadilla but I think it was because they wanted to get it done fast. Also, if you don't like the way the chicken is typically cut for Thai dishes, you won't like it in the other stuff either, but if you do like it, then great! And their south city garden burger is AMAZING with waffle fries and a big fat chocolate milkshake! —KatherineMcMcMc
---
2011-02-14 00:00:25 I returned here for lunch on a weekday. As everyone who holds a 9-5 knows, speed is of the essence for a lunch spot. It took forever to get our food. When it did arrive, it came out of order (soup came 15m after entrees). I got the Thai fried rice - it was excessively greasy, wet and tasted like cheap Chinese take out fried rice with a hint of basil . The pad thai was effectively tasteless - i.e it literally tasted of nothing. The pad kee mao was the best of the lot but that is not saying much. However, the spring rolls and the accompanying sauce were delicious. As strange as this sounds, I think what made all the dishes bad were a not-smoking-hot wok and the lack of fish sauce. It is possible that their Chinese dishes are better. The server was friendly and offered to take the soup off the cheque since it came so late. Side note: Fountain soda is not available - bottled only. The food was so much better on my prior visit last April. Maybe I caught them on a bad day? I will give them one more try ... some of the items on their American menu looked very good.
---
2011-04-07 12:00:37 Reported as closed on April 3:
http://www.rochestercitynewspaper.com/restaurants/guide/South-City-Garden/#comment-15304 —MarkJackson