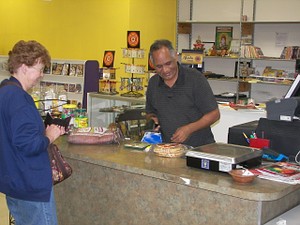 Owner Chander and Pleased Customer
Huge Selection of Fresh Vegetables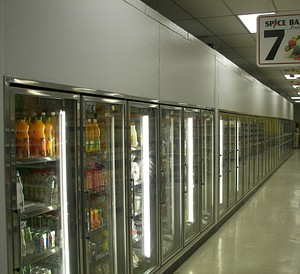 And Frozen Food, Ice Cream, Beverages
Spice Bazaar is a grocery store , specializing in Indian food and beverages, that opened in November 2009 and was purchased and reopened by Chander Sud next to Jefferson Plaza.
Notes and References

"For more information visit their website at SpiceBazaarofRochester.com"


Devotees of Indian cooking have a new store to shop in ... Owner Chander Sud, brings his years of experience managing the India House on S. Clinton Ave to his own 6,000-square-foot food retail business "
Comments:
Note: You must be logged in to add comments
---
2010-06-26 15:49:57 Seems like it is now closed and for sale —RocDiner
---
2010-07-30 11:12:37 Good News! New owners reopened the SPICE Bazaar on July 30th with LOTS of Indian foods!!! —PatWartinger
---
2011-03-26 15:12:25 Amazing selection of hard-to-find (at least for me) spices. Very impressed. —karlos
---
2011-10-02 13:21:57 I shop here frequently, much better selection of spices and ingredients than any of the other indian markets in town —jberna
---
2011-11-06 17:04:28 Chander has been at this new location for just over a year now and every week it gets better with more selection. My favorite Indian Grocery, bright, clean and a lot more room and better layout, there's even room in the aisles to push a shopping cart. I especially like the large selection of fresh vegetables. —rtuhro