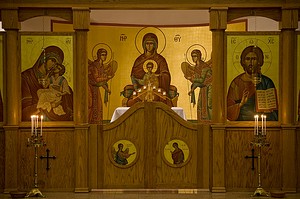 A close-up view of the iconostasis (altar screen)
Location
1492 Spencerport Road, Rochester, New York 14606
Office Hours
Monday-Friday: 9:00AM to 5:00PM
Service Schedule
Sunday Divine Liturgy: 10:00AM
Feast Day Vespers - Liturgy: 7:00 pm (Eve of feast)
Presanctified Liturgy: 7:00 pm (Wednesday in Great Lent)
Akathist Hymn: 7:00 pm (Fridays in Great Lent)
Call for Christmas, Great Week and Pascha schedule or check the website
Phone
585 426 4218
Accessible
Wheelchair Accessible
Website
Saint Nicholas Church
Officiant
Father Michael Copenhagen
Father Deacon Edmond J. Elhilow, Jr.
Father Deacon Elias Y. Sarkis
Saint Nicholas Melkite Greek Catholic Church is an Eastern Catholic community following the Byzantine rite in communion with the Church of Rome.
The Byzantine rite is also celebrated in the Greek Orthodox Church. Roman Catholics will find the services familiar but distinct, and are allowed to receive Communion since the Melkite Church is under the Roman Catholic umbrella.
All members of our community are welcome to join!
Comments:
Note: You must be logged in to add comments