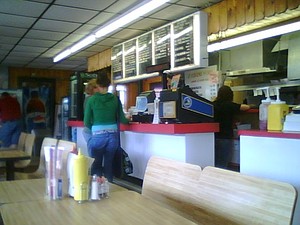 The counter.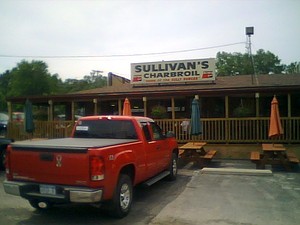 Home of the "Sully Burger."
Location
4712 W. Ridge Road, Spencerport, NY 14559
Hours (as of July 2009)
Monday - Friday: 11:00 AM to 9:00 PM
Saturday - Sunday: 7:00 AM to 9:00 PM
Phone / Fax
585 352 5860 / 585 352 8908
Accessible
Yes
Alcohol
No
Website
http://www.Sullys-Catering.com
Sullivan's Charbroil is the "Home of the Sully Burger." This is a roadside burger/hots diner on Route 104, on the Parma side of the Greece/Parma town line. A lot of Elvis and assorted 1950's memorabilia line the wood-paneled walls. Breakfast is served on the weekends. There is a driving range behind the restaurant.
Indoor seating is in the form of booths. There is also outdoor seating on a covered porch.
Sullivan's also offers catering.
Photos
| | | |
| --- | --- | --- |
| | The aforementioned "Sully Burger." | Loganberry! |
Comments:
Note: You must be logged in to add comments
---
2008-07-26 14:29:34 A nice find. The "Sully Burger" is a thin charbroiled patty on lettuce, topped with American cheese, tomato, and mayo on the bun. The burger, lettuce, and tomato were noticeably fresh. My friend Doug had the Italian Sausage and said it was good. Other items of note - the "Elvis" - a hamburger, hot dog, and fries combo - and the "Sully Plate," which I'll have to try next time. —ZachSmalt
---
2012-10-23 09:35:20 the older woman cook has a super nasty attitude .super unfriendly as is there servers the only good thing is there hot sauce —karenthom