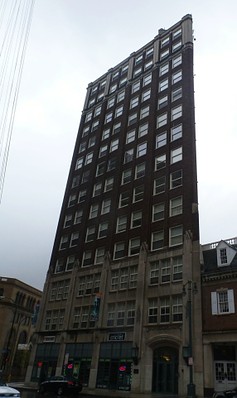 Actually appears two-dimensional from some angles. Note the cables from the Liberty Pole on the left.
Location
14 Franklin Street, Rochester, NY 14604
Occupant(s)
Commercial and residential
Wheelchair Accessible?
Info Needed
Pets
Yes
Property Manager
Costanza Enterprises
Property Manager's Phone
585 232 3600 x100
Website
http://www.TempleBuilding.com
Architect
Carl Traver and Gordon & Kaelber
Dedication
September 7, 1925
Third-Party Websites
Wikipedia
The Temple Building is an interesting building downtown in the Main and Clinton neighborhood. It is a 14-story skyscraper that, bizarrely, contains a 9,000 square-foot Gothic cathedral at its base. It was renovated into lofts and commercial space by Costanza Enterprises in the mid-2000s. Amenities include advanced security features, in-suite laundry, high-speed Internet, and a private, heated indoor garage.
Its history may be found
here.
A runway show was held in the Temple Building during Fashion Week of Rochester 2013 as part of its "Refashioning Rochester" theme. It featured
Tommy_Lee as DJ. According to the Democrat and Chronicle:
This year, the idea is to showcase the reuse of older buildings and a resurgent downtown—evidence that Rochester is following housing trends along with style trends. A new generation of homebuyers and renters, here and nationally, is looking to live in greener ways, surrounded by old-world character that can best be found by moving to a city's core. Even empty Rust Belt downtowns in cities such as Cleveland are reenergizing into cultural centers filled with repurposed housing, arts offerings and dining options.1
Tenants
See
website for a complete list.

Links
Comments:
Note: You must be logged in to add comments
---
2005-11-01 10:29:58 From what I've heard and seen, this is more of the 'Luxury Loft Apartments/Condo's" that are springing up all over. From what I've seen, I'm wondering where and what demographic they are expecting to fill them. —FarMcKon
---
2005-11-01 16:02:15 I'm that demographic- young, urban, and looking for a large and modern apartment. —AdamLynch
---
2005-11-02 10:23:22 Young, urban, and rich enough to spend $900 a month on a 1br apartment! I'm going to ask you to buy if you ever show up for one of our drink-and-edit sessions. —FarMcKon
---
2005-11-04 15:34:24 $900/mo? you can't be serious. —TobinFricke
---
2005-11-05 15:31:01 Is the 'cathedral' consecrated and/or functioning or open to the public ever? —JonRobins
---
2005-11-08 19:03:06 FarMcKon: Not a problem at all. :-) Got one coming up? —AdamLynch
---
2007-04-15 17:20:09 Looking at the photographs of the building, my impression is that the "temple" is at the top of the building, and not at the base. —DavidHowe