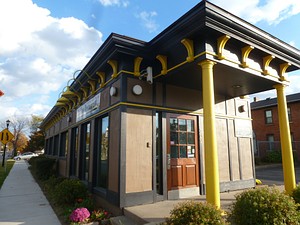 Oct. 2012
Former Location
309 University Ave, Rochester, NY 14607
Thai Lao Restaurant was a Thai/Laotian restaurant in the Alexander Neighborhood.

It opened in early April 2012. It closed in June 2013 when the owner could no longer afford the rent.
Comments:
Note: You must be logged in to add comments
---
2012-06-28 22:17:27 My girl friend is vegetarian and she likes the selections of one appetizer and 5 or 6 main course vegetarian dishes. She say way better than the selections at most American Restaurants. We both really loved the food we ordered, best spicy Lao/Thai that I have had in Monroe county. Most expensive main course $14 and the average is only $8. If you like food spiced like you would get it in Bangkok (yes I have been there) this is the place for you, they will make it spicy and give you Thai peppers on the side. My lady and I will be going back many more times.
---
2012-09-30 09:38:27 When we went for the first time on Friday evening we found the restaurant to be about 3/4 full, but immediately noticed that something was amiss. Servers were rushing around, empty tables were uncleared, and many patrons seemed restless. We sat, reviewed the fairly short menu and our order was taken after about 15 minutes. Then began a wait for food - 45 minutes until our fresh spring roll apps arrived (although we noticed folks that had come in after we ordered being served spring rolls well before us). The rolls were OK but the dipping sauces in tiny plastic to-go cups seemed fairly bland. Then the wait for our entrees began as others were chasing down servers to get food or their bill. We heard several folks say that they had to get going to some evening event or another. A little over an hour after walking in our food arrived: my chicken curry was very "brothy" with fairly little protein and veg, and my wife's "special pork meat" was overcooked and dry. Folks around us were looking for their food too as spring rolls now were churning out of the kitchen but the servers seemingly had no orders to sell them to and just wandered around with the plates before sending them back to the kitchen. When we were done eating our server asked "Do you have the Groupon too?" (we did not) which suggested to me the source of the disarray in the restaurant. I believe they were overwhelmed by the extra coupon business and, from our observation of others, probably didn't make many new customers. As for us, we don't plan to go back with so many other good Asian dining options in town. —jgerek
---
2012-10-21 17:33:20 Sign in the building across the street says an Ethiopian place is scheduled to move in. —EileenF
---
2012-11-05 11:49:58 It took my partner and I way too long to try this place. Our first visit there - everything was wonderful. The Tom Yumm, from the specials board was great as was the Yellow Curry. Our second visit was still mostly positive, but, the Phad Thai was a HUGE disappointment. On the plus side, it was not a redish glob of sticky noodles like we have found in most other Thai restaurants in the area. But, it was sickeningly sweet, and cold when it arrived at the table. (The best in town is at Doc Hoa on Monroe.) It even appeared as though simple syrup had been poured over the top before serving. The other items we had were very good. Definitely will visit again. !! I must agree with JGEREK's comments re: the service. On both visits it was lacking— lacking speed and friendliness. I am very willing to wait for good food to come out of small, and busy kitchens...but, the wait was almost 45min's. and the wait staff did nothing to compensate - we even had to flag her down to ask for more hot tea, and at the end of the meal we sat looking at our dirty plates for almost 15 minutes before I asked them to remove the plates and bring us our bill. I had wanted to explain why the Phad Thai was uneaten, and had even hoped to order the sticky rice, but, after the long wait, we were ready to leave. —SFear
---
2012-11-10 19:26:53 One of the best curries I have ever had! (Thai is my favorite cuisine!)
The menu is a mix of Lao and Thai dishes, and the staff is great helping you choose the right dish.
I had the Yellow Lao Curry (tofu), which had very complex seasonings and just the right amount of heat. Spring rolls had lots of Thai basil. The menu is not as extensive as some other Thai restaurants, but the dishes are done very well.
Excellent, warm service (we went at 2pm on a Saturday, and there was one server to handle 2-3 tables). The owner asked how we enjoyed our meal, which is always nice.
Atmosphere is quite casual, almost like a cafe. Clean, nice decor, good location.
We will definitely return! One of my new favorites in Rochester.

---
2013-01-26 08:11:27 Friendly service and welcoming atmosphere, but the food is a little lacking. My wife and I split an appetizer of fresh spring rolls. The spring rolls were tasty, and they came with three dipping sauces that were all very good (although I wonder if there is a better way to serve the sauces than in little plastic cups). My wife and I both ordered the yellow curry. The flavor was milder than I would have liked, and the dish seemed like it could have used more coconut milk in proportion to broth (in other words, the sauce was a bit thin and runny). Also, the portion size was probably smaller than average, and I could have used more rice. I was still hungry after I finished the curry, so I ordered mango-coconut rice for dessert. The dessert was simple but excellent. Our waitress was friendly, and the chef (who might also be the owner) came out to chat with us. The restaurant has a nice "vibe" to it. The décor is nothing fancy, to be sure, but it has a pleasant, homey atmosphere. I will probably give this restaurant another chance. Let's hope that the other entrées are better than the yellow curry. Oh, and one more thing: You can bring your own wine, and there is no corking fee. The restaurant will supply you with wine glasses. —Rochester-Native