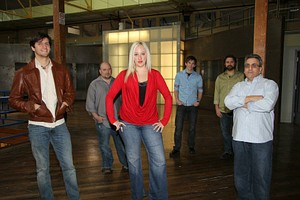 That Party Band is a new band hitting the Rochester area. That Party Band offers its clients event-specific song selection in multiple genres, including pop, country, rap, classic rock, and oldies. The band features two lead vocalists, a pianist/keytarist, drummer, bass player and guitarist. That Party Band is the official band of the Rochester Lancers.
That Party Band is available for:

Weddings


Bat / Bar Mitzvah


Corporate Events


Birthdays


Graduations


Proms


Backyard Events
Michael Guidice - Lead Vocalist: Born and raised in Rochester, NY. Was brought up around music his whole life. His Brother was and still is a big influence on his musical background. His family had a band The First Impressions and played the music scene in Rochester during the 1970ʻs. With influences from local band such as Me and The Boyz, he with the help of his father formed his own group That Party Band in January of 2011. Michael and That Party Band debuted at Pub 511 on September 23rd 2011. Ironically that venue in 1978 known as The Fountain Blue, was also the debut show for his family and their band, The First Impressions. Interests for Michael include, Music, Art, performing, writing and of course Batman!
Taylor Lee Smith - Keyboards, Keytar, Vocals: Born and raised in Owego, NY. Classically trained on piano, starting at age 9. Studied music in college at Mansfield University, receiving a Bachelor's degree in Music Education. Continued education at Nazareth College of Rochester, receiving a Master's degree in Music Therapy. Moved to Rochester in 2009 and have been part of the local music scene since then. Currently working as a music instructor at School of the Holy Childhood. Interests include, but not limited to: music, keytars, pop-tarts, running, triathlons, and climbing/jumping over things.
Alex Lasher - Lead Guitarist, Vocals: Alex has spent most of his entire life playing with the Star Wars toys that he collects but somehow he found time to devote to the guitar. From a very young age he saw it as a way to desperately try to be cool enough to make others overlook the obsessive sci fi addiction. He is also a relentless gear junkie that frequently loves to hang out at locally owned Rochester guitar shops constantly exploring the world of sound. Alex is also a raging foodie that wholeheartedly supports Rochester's best eateries as well as experiencing the endless boundaries of Flavor. He currently lives in the city and is an Employment Specialist for The Employment Alliance, an initiative of Heritage Christian Services. Above all else Alex appreciates most spending time with his beautiful wife Faith who is also an accomplished saxophonist and plays with him in the local blue groove band The Deep Blue Dream, and their wonderful 3 year old daughter that is the light of his life.
Allison Stephens - Lead Vocalist: Allison has been working in the Rochester music and theater scene for fifteen years. She dances all the time, even though she has no rhythm, just watch, you'll see. She loves performing for a crowd and can be seen singing on top of any bar (or chair, or anything elevated) that she can get to. She can also hyperextend her knees and elbows, beat most people thumb-wrestling, cartwheel on command and has excellent Super Mario Galaxy skills. She desires a rare and majestic unicorn, chocolate to have no calories and world peace.
Ronald Guidice - Bass: Born in Rochester , NY has been playing guitar and bass for over thirty-five years. He played in many cover bands through the 1970's and 1980's. Ronald has studied guitar at the Hochstein school of Music. Music has always been a part of his life since childhood. He has been a disc Jockey for over twenty years and teaches guitar at Stutzmans guitar center here in Rochester. Ronald has a strong interest in jazz music and has been influenced by Wes Montgomery.
Jason Huntoon - Percussion, Vocals: Jason has been playing drums since before grade school. He picked up sticks early on in life and was fortunate to learn a lot from his greatest drumming influence, his father. Jason has played in bands throughout his life. He took time off to raise his 2 children and when his kids were older, came back with a renewed passion. Since returning Jason had been in several bands including Alter Ego (The Official Band of 100.5 the Drive), and 390. When not behind a drum set, Jason will be found with his wife Gina and kids Ben and Victoria.
Comments:
Note: You must be logged in to add comments