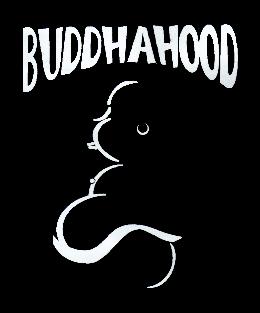 The Buddahood
Member
Role
Jim Schwarz:
Keyboards
Gabe Costanzo:
Trumpet, Vocals
Courtney Balles:
Alto Sax, Flute, Jembe, Vocals
Rick Whitney:
Bass, Jembe, Vocals
Nate Coffey:
Guitar, Vocals
Pete Mugnolo:
Drums, Vocals
Capt. David Weinberg:
Stick/Hand Percussion, Frottoir
Paul Hansen:
Congas, Surdo, Percussion
Paul Mastriani:
Percussion
Website
http://www.thebuddhahood.com
Since 1996, The Buddhahood has been driving their World-Ternative Groove train in and out of Rochester, NY, whipping crowds of beloved fans into frenzy, blurring the line between stage and dance floor and transcending audiences with their explosive and soulful shows. Carrying on the messages of founding member Tony Cavagnaro, there is an incarnation on the scene whose musical energy comes from power and spirit, and with songs about perspective, picking oneself up and having crazy amounts of fun.
Making up this highly creative and entertaining ensemble are nine members, with a wide spectrum of character and musical background. Known for their multi-instrumental, powerhouse sets, The Buddhahood represents with a variety of vocal styles, full percussion, horns, bass, guitar and keys in shades of Afropop, Roots, Reggae, Jazz, Rock, Blues and Samba in unstoppable vibration and elemental harmony, as each song forces you to stay on the dance floor.
The Buddhahood is currently supporting their latest five-song EP release, "Root." Other recordings span almost two decades and are available directly from the band or on cdbaby.com.
The Buddhahood
Discography
Rub the Buddha (1997)


Welcome (1999)


Live at Park Ave (2002)


Live at Park Ave (2004)


Live at the German House (2005)


Muddy Roots (2006)


Toasty: Live @ Park Ave Fest 2007 [2-disc Live CD] (2007)


Root (2013)
Awards
They were voted "Best Original Band" in City Newspaper's Best Of Awards in 2007 and 2008, and "Best Band Name" in 2007.1 2
Video
The Buddhahood & FRIENDS January THAW 2016 "Scared Dance"

The Buddhahood & FRIENDS January THAW 2016 "Drum & Horn March"

The Buddhahood "Ecosystem" Great Blue Heron Fest 2015

The Buddhahood "ROOT" Cd rel.party at Lovin Cup "Scared Dance" 2013

The Buddhahood "Temptress Eyes" WedgeStock 2012

The Buddhahood / Krissy Beth Apples "Say You Love Me & Dirt Sleep" Park Avenue Festival 2011

The Buddhahood / Calvin, Don Anonymous "Happy Birthday / January Thaw" Water Street Music Hall 2010

The Buddhahood "Through The Veil" Water Street Music Hall - November 2007

The Buddhahood "Purify" Highland Bowl WedgeStock 2007

The Buddhahood "Kaya" Park Avenue Festival 2007

The Buddhahood "Care" Park Avenue Festival 2007

The Buddhahood "What's Goin On / Nuff Respect" Park Avenue Festival 2007

The Buddhahood "No Mind" Park Avenue Festival 2007

The Buddhahood "Listen" Park Avenue Festival 2007

The Buddhahood "Through The Veil" Park Avenue Festival 2007

The Buddhahood "Dirt Sleep" Park Avenue Festival 2007

The Buddhahood "Big Fish" Park Avenue Festival 2007

The Buddhahood "Samba March" in the street at the 2007 Park Avenue Festival

The Buddhahood playing "Kaya" at the 2007 Lilac Festival

The Buddhahood / Festival Guy "Worry Tune" Lilac Festival 2007

The Buddhahood playing in the street at the 2006 Park Avenue Festival
Comments:
Note: You must be logged in to add comments