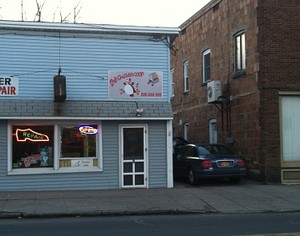 Old South Avenue Location
The Chicken Coop is a restaurant specializing in fried chicken. Located on Main Street in Webster, it offers both take-out and delivery.
It opened at the end of November 2010.
Comments:
Note: You must be logged in to add comments
---
2011-12-14 17:18:33 Based on the positive reviews at UrbanSpoon, my friends and I made a trip out to Webster to give the Chicken Coop a try.
The fried chicken was spot on — crispy, crunchy, and tender (and just as good cold the next day). We all enjoyed the side and would order them again: mac&cheese (mmm, strings of cheese), mashed taters w/ homemade gravy and the green beans with the addition of tomatoes as a tasty touch. The service was friendly and personable. We all agreed it was a delicious meal, and what a treat to have homemade fried chicken. Though we live in the city, we will definitely be back to Webster for more.
Do note that while there are a couple of small tables, it is primarily a take-out place. Also, the chicken is made fresh, not ahead of time, so your best bet is to call in your order and pick-up, so as to avoid a wait while it cooks. —LizDee

---
2012-03-15 15:48:53 the food was terrible, as well as the service...they dont seem to be organized or even know at all what theyre doing..waffles were soggy, potatos had, i think, sour cream in them...ick! frankly, i feel that the positive reviews were fakes... —VM
---
2012-03-15 16:42:06 So, how DOES a 'chicken co-op' work, anyway? Do you buy shares in the entire flock, or just buy a single bird and help in raising it? I know that the Genesee co-op sells organic chicken, but how is 'co-op chicken' different? —Alex-C
---
2015-08-26 11:14:22 @Alex-C it's called "Chicken Coop" not "co-op"... they're a restaurant that specializes in fried chicken. —travisowens
---
2015-09-01 10:17:35 Had lunch here and it was outstanding, albeit there's virtually no seating available (3 tables, 2 chairs each and if they were full people would be in each other's laps). Would absolutely go again, best fried chicken in the area and some of the best I've ever had. —travisowens