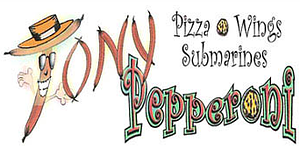 Tony Pepperoni is a pizzeria in Henrietta. Serving pizza, wings, subs, soups, salads, and more. Delivery is available for a $1 charge.
They offer many "gourmet" slices, including Parmesan pizza, cheese steak pizza, lasagna pizza, Buffalo chicken pizza, and "Tony's Plate" pizza (a pizza version of the infamous Garbage Plate).
Comments:
Note: You must be logged in to add comments
---
2007-11-16 21:53:36 My pizza was not very good. It was soggy and the cheese slid all over the place.
I would have been more satisfied getting a DiGorno frozen pizza from Wegmans. —MarkTran

---
2008-02-05 14:02:37 Tried them yesterday night for the first time and we liked them very much, very "Italian-style" pizza: simple tomato sauce and mozzarella cheese. Yes, the cheese is not stuck to the base, but that's the way we like it! :-) —AndreaCogliati

---
2008-03-10 20:51:55 Delicious pizza, one of the best that I've found in Rochester. The prices keep creeping up, up, up, though. But if you're looking for a swell pizza, this is the place! —LincolnComet
---
2008-04-03 12:17:05 Went here for lunch today. Got two gourmet slices (Buffalo chicken and chicken parm), a cookie, and a 20oz. pop for $7.00. The pizza was enjoyable, and the selection of pizza was very good. I wasn't quite brave enough to try the "Tony's Plate" pizza, featuring ground beef and french fries as toppings. —AlexanderGartley
---
2008-04-29 20:30:31 Pizza is pretty good. Often it has a bubbly crust which is something I look for in a pizza. —RocDiner
---
2008-06-05 17:15:41 Great pizza, by far the closest to Brooklyn/ NYC style you can get in Rochester (at least for plain thin crust well done). The sauce is delectable and has to be savored by itself. Their cheesesteaks are closest to what i've had in Philly / Jersey (at least plain with no toppings). eggplant parm sub is the best I've tried anywhere in the country. The wings are average. 3 items best in Rochester make it a pretty good pizza place in my book. —TonyBurba
---
2008-06-23 19:43:42 I'm from the Queens area in NYC and this pizza is as close to what I'm used to as I've ever had in Rochester, hand tossed fresh dough, great tasting sauce, real cheese, and the real pepperonis, the best in my book!!! —BonsaiCult
---
2009-12-04 11:13:18 Great for slices at lunch, both variety and quality - good crust. —MVP
---
2010-01-29 12:47:45 Well I finally tried the Tony's Plate pizza (fries and ground beef on it). Put some ketchup and mustard on that bad boy and it actually wasn't too bad. Not much like a garbage plate, but a unique creation that's strange and fun to eat. —AlexanderGartley
---
2010-06-08 16:34:29 I ordered a large cheese pizza with thin crust, a turkey cold sub and breadsticks with cheese. I was really disappointed with the sub and the breadsticks. At least all of them were homemade. I was fairly pleased with the taste of the pizza. Thats a rare compliment from me regarding pizza considering I grew up in New York City. I would order pizza from Tonys again but definitely not the subs or breadsticks for sure. —AmentzRiona
---
2010-06-28 18:28:52 I ordered from here last night, they were out of my delivery range, but I figured it was worth the drive into town for, as I've heard good things before.
I'm not really a fan of throwing a billion things on a slice of dough and calling it pizza, so I stuck to the basics. Large, thin crust.
I was a little nervous at first, as I had asked for the brookyln style crust, or if they had a specific brooklyn pizza (ala salvatores for example), and the person on the phone had no idea what a brookly or new york style pizza was. Not a good start.
The pizza was very good though. If you are used to new york style slices, it can be a substitute, but it probably won't be in your top 3. The sauce is light and sweet, with a moderate intensity. Not too much, not too little, the amount of sauce was perfect. Likewise for the cheese. I topped it off with a little romano/parmesan and that was perfect.
The crust was thin, but not crunchy. That's the key. Thin and crispy pizza might as just be a saltine with sauce on it.
I haven't tried anything other than this one pizza, but I will be back for more. I highly recommend this pizza, the only thing I've had yet in the 585 area that was any good was the brooklyn style pizza from Salvatores. —ChrisE

---
2010-06-28 21:34:04 Great pizza, cheap lunch specials. I've been meaning to try the garbage plate pizza - looks like fun, but it's just so hard to turn down a good pepperoni slice when you smell it. —MattDana
---
2012-03-27 21:28:57 I purchased my last pie from these idiots this evening! I should have known better after they asked me to hold and then hung up on me. I called back and ordered a Large, easy on the sauce, double Cheese and Pepperoni. 50 minutes later they delivered a Large, regular sauce, regular Cheese, and no Pepperoni. I called back and spoke with Jonas who offered no satisfaction. I'm done! Their pizza was always inconsistent and never that good. Beware and fore warned of Tony Pepperoni West Henrietta. —DonLaMonica
---
2014-11-10 17:25:57 Monday and Tuesdays you can get a large for the price of a medium. I like this place overall and rate it 8/10. Their chicken wing pizza is excellent. —theblue
---