disclaimer:
hi there.. no i'm not one of those types that speaks about myself in the 3rd person.. but this bio from
my website written by a friend explains what i do better than i can. cheers, - gp.
"
Gregory Paul lures listeners through a beautifully haunted acoustic soundscape of folk-noir sounds and images...along miles of ethereal banjo, guitar, bow, slide, and musical saw. Following his popular success with the Rochester, NY based
Autumdivers, Paul released his highly applauded 2005 solo album
Awake From the Flash, which contains recordings that span twenty years of GP's musical experiences. More recently, Paul's diverse musical accomplishments include fronting the experimental ensemble
Inward Becomes an Anthem, and as guitarist for the old-time band,
The Varnish Cooks. He is also noted for his unique banjo picking presence in Rochester's Indie-Americana band
Hinkley. Paul generously collaborates with local poets, visual artists, and musicians— and his music has been featured in a variety of multi-media projects. Gregory Paul has toured extensively throughout the US, and is currently recording work for a future release."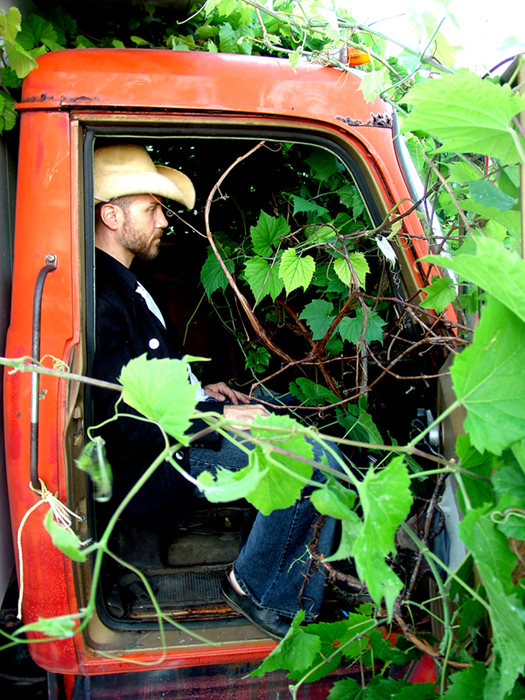 gregpaul's Statistics
| | | | | | |
| --- | --- | --- | --- | --- | --- |
| Edits | Pages Created | Files Contributed | First Edit Date | Last Edit | Last Page Edited |
| 14 | 0 | 1 | 2007-06-28 18:59:23 | 2007-11-03 17:42:24 | DaveMahon |
Comments:
Note: You must be logged in to add comments
---
2007-06-28 19:27:12 Welcome to RocWiki, Greg! Please let us know if we can answer any questions. —PeteB
---
2007-06-28 22:31:53 Greg is an amazing musician and song writer. I highly recommend his music. —JasonWilder
http://www.example.com

---
2007-11-02 07:43:53 If you don't mind, I'd like to move the links into the text of your page. It will make you more visible to Google and hopefully make it easier for more people to hear your music. The technical term, for what it's worth, is search engine optimization. —DaveMahon
---
2007-11-02 08:12:44 Hi Greg, glad you learned to say "soda" ;) I guess the best way to describe my musical interests is "a little bit of everything!" In terms of playing, I have a strong classical background in piano, flute, and oboe, and I've also had a decent amount of jazz experience on piano, voice, and flute. I'd love to get the chance to play some more jazz flute! In terms of listening, I'll give anything a try, but in general I don't like country, death metal, and a few other things. I'm currently really into trip-hop, but my radio dial always seems to gravitate to 90s rock and alternative :) Just checked out your website—really cool stuff! Wish I could come to your show tonight but I'm heading out of town for the weekend. —RachelBlumenthal

---
2008-06-02 03:44:08 Greg, mint photo! —MariahBetz