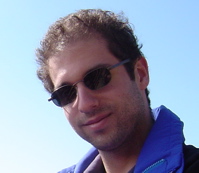 I'm Ross Messing, a sixth year graduate student at the University of Rochester
Computer Science Department, and Computer Vision Research Scientist at
Tandent Vision Science. Questions about my academic life can be answered at
my URCS homepage.
My family moved to Rochester about ten years ago. I went to
Swarthmore College as an undergrad, class of 2004. It's strange to be back in Rochester. Update: I've now left Rochester for Poughkeepsie, which has a few better restaurants (due to the proximity of the Culinary Institute of America), but is otherwise kinda weak.
I lived in Whipple Park, a housing community for UR graduate students, for six years. I love to eat, and I'm a contributor to the Restaurants section, especially the Upscale part.
RossMessing's Statistics
| | | | | | |
| --- | --- | --- | --- | --- | --- |
| Edits | Pages Created | Files Contributed | First Edit Date | Last Edit | Last Page Edited |
| 63 | 10 | 1 | 2005-06-19 15:33:00 | 2011-01-17 17:01:03 | Tailors |
Comments:
Note: You must be logged in to add comments
---
2007-12-05 15:58:09 Ross, have you really been in Kobe? —AndreaCogliati
---
2008-09-29 13:27:12 Hi, you hereby ADOPT your RossMessing/ToDo page which is otherwise an Orphaned Page. Thanks (;>} —BradMandell
---
2011-01-17 15:40:24 I'm pretty sure this response comes several years too late, but yes, I've been to Kobe. I was pretty young (14 or so). —RossMessing
---
2011-01-17 16:05:52 Ross—dressmakers can be included under the Tailors section that already exists. —PeteB