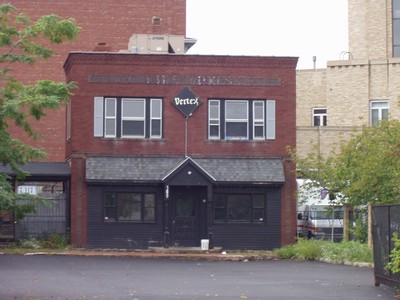 Vertex Night Club has been Rochester's Goth nightclub in various forms and locations for 10 years running. Currently located in the old Freakazoid next to the Harro East Ballroom in the St. Joseph's Park Neighborhood.
Comments:
Note: You must be logged in to add comments
Comments previous to 2009 have been archived on the talk page.
---
2009-01-07 15:06:00 I went on a Friday night and had a great time on the dance floor but really didn't like the alien horror movie that was projected on the wall, which featured a lot of violence against women. Clearly a major problem in our society: just look at the sexist, misogynist comments above me! —emmagoldman
---
2009-01-09 22:27:51 As a 19 year old college girl who loves a good night of dancing...dancing not grinding Vertex has just become my favorite place. I am in no way the expected character, but i loved the place.
although the night was slow, maybe 15 of us on the dance floor. As the movie played from the projector and the beats kept coming we danced our hearts out. As for the regulars of the club. intimidating at first, but a warm welcome was awarded as we took our final walk off the floor to go home. I would definitely recommend to anyone who likes to dance and if the bug jar/tilt scene just doesn't cut it. —EmilyKirsten

---
2009-01-16 20:35:00 Vertex is Rochester's last vestige to those who are find themselves not fitting in any of the other mainstream clubs.
A cozy dark environment. Catering musically anywhere between Goth, Industrial, Metal, Techno, Alternative and 80's.
Open 3 nights a week, Thursday, Friday and Saturday.
Saturday nights are by far my favourite time to go. DJ Darkwave presents a wonderful mixture of music all night long to satisfy just about everybody. He has even been seen accepting the odd request from time to time!
Crowds include everybody from new comers to die hard's. People come from as far Buffalo and Syracuse. Regulars are always friendly. New comers wanting a good time always appear to be accepted.

---
2009-01-26 14:56:20 I've been enjoying the occasional trips to Vertex the last few months, and the music can be all over the place, sometimes good, sometimes bad. For example, my first trip there had a mix of anywhere from 80s New Wave to 70s metal (Judas Priest and Motorhead?!), another trip being what
I would almost call an entirely Techno/Dance night, and the most recent trip (last night) being my favorite mix yet, mostly 80s/90s staple
goth club New Wave and Industrial (anything from Joy Division and New Order to Skinny Puppy, NIN and Nitzer Ebb).
It would be nice if Vertex actually used a web page to outline who would be DJ'ing certain nights, or what type of set they would be playing.
That trip last night was a guest DJ who played until 4AM! Knowing the type of set, I may have been able to pull a few other people in that
evening, I think they would have enjoyed most of the night (especially if they could have taken "Twisted Sister" in stride ;) ).
This may just be an "issue" because DJ DarkWave was on vacation for some time, and therefore Saturdays have been guest DJs.
As for "ImGotherThanYou", I have a set of
Gother Than Thou playing cards in my attic, let's see how you do ;)
edit: I found and added the web pages for the regular DJs to the main Vertex page on the 26th.

---
2009-01-27 16:14:48 13 years, 1996. I started in 1997. Fridays:
http://www.myspace.com/cedricherrera —CedricHerrera

---
2009-06-10 12:20:03 I was introduced to this place years ago by my buddy Todd and his lovely wife. I went rarely but have become a regular on Saturdays although i enjoy the music on Thursday best (I'm a very angry man...)
The people are fantastic. If you show the people there the respect they deserve it will...generally...be reciprocated. Everyone is nice. No one is crowing "look at me!" well, save for the hottie goth muffins in their corsets. I like muffins...
The drinks are good, the bartenders are great people. Thanks Patty. Thanks Erik. The music is fantastic. The prices are low. The atmosphere is solid and appropriate. The customers are good people and you'll find a decent mix of 'em from every level of society and race. Go on a Saturday for your first time. You will enjoy it...or I'll buy you a drink if you dont (between 10:30 and 11:30)
I dont want to be anywhere else on a Saturday night.. —CharlesFXD

---
2010-12-17 12:42:30 Still one of the best and only goth/industrial bars in our region. Any night is fun to visit on but Saturday is the best if you are into any kind of industrial/ebm/futurepop/aggrotech. Steve (DJ Darkwave) has a good collection and keeps up with the current releases. Expect a blend of most electronica and synth/electropop but he will play harsh industrial and terrorebm on request (yes, he does play requests) and it's the only regular spot in WNY you can hear that kind of music. —BrentonChapman
---
2010-12-17 22:02:29 I've been going to Vertex off and on for six years. I'm not goth. I don't drink much. I feel awkward in normal bars. Vertex feels like home. Great bartenders, even when you just want diet coke, Cedric rocks, especially on 80's nights, and the people are always interesting. —CatherineHogan
---
2011-01-08 14:30:56 Hello 1992 called and you guessed it, they would like their Doc Martins, blue black hair dye, black eyeliner and black fishnets back. —NewtonNola
---
2011-01-22 18:27:52 Quite the humorous comment Newton, I love the irony of a quote from an old movie being used to make fun of people for being out of date. Have you even been to Vertex or are you just expressing an uninformed opinion? —StevePrinsen
---
2011-01-29 21:00:38 I love Vertex because it's the one subculture I have found that is the friendliest. I have been coming here since I was 18; on and off at first, but now pretty regularly. My boyfriend has been coming to Vertex practically since it opened. I enjoy the dance floor because people actually dance instead of all the grinding like in mainstream clubs. —JoannaLicata
---
2011-03-08 21:16:12 is this place still open? —baldorsmash
---
2011-03-08 22:38:21 Their facebook page was updated on Friday and Saturday so I would say yes —DamianKumor
---
2011-04-08 18:41:41 The few times I've been here have been interesting. The crowd is a nice mix of gawkers and people who don't give a crap what you think of them (as they should be!). I liked the music but don't really ever go here because, well, I'm an old fogey. —BatGuano
---
2011-06-03 12:49:51 Hey folks no reason to attack folks on this page, that's what Facebook is for. This is for people's honest opinions about all things Rochester. And of course I have been there, more than once. Why would I comment on a place I have never been to??? I happen to think this place sucks. Not asking for anybodies approval of my comments and not looking to be disrespectful to anyone on this site. There are lots of places that I rate very positively. Not going to lie here because then people will have a false sense of my opinion. I'm not trying to be a jerk , just honest. Bars I do like, Abilene, Mayfield's, Flipside, Tap & Mallet, The Old Toad, McGegor's, Salinger's . —NewtonNola
---
2012-07-18 10:50:01 NewtonNola, Based on your selections of bars and the fact you start off by insulting people I would say you went to the wrong club with the wrong expectations. Since you get to keep your "flame bait" comment I would like to discuss your comment.
None of the other places you mentioned are even close to the type of place Vertex is. Vertex is place that welcomes anyone and everyone, doesn't have pretentious dress codes and the drinks are good for the right price. Those other bars you mention have fights on a regular basis! Those other bars have guys disrespecting women all the time, that doesn't happen at Vertex. The people at Vertex are friendly, are there freaks there? there can be but there is also everyday people there too the point is you can stare all you want no one cares! It's an every mans bar! It's not a mainstream club and it's not supposed to be.
They can't suck too bad, They have survived 20+ years WITHOUT ADVERTISING on the radio or in print! Tell me what other club has done that ? NONE
The Average life of a club is 1 - 5 years just look at the St. Paul Blvd. and East Ave Clubs they change hands all the time.
There is plenty of bar room to get to the bar at Vertex. Good luck getting served anytime soon at the other bars you mention, they are slow and they don't care with everyone pushing and shoving to get to the bar because each one of them are more important then someone else! The bars you mention are all pretentious East Ave. Bars where you will pay $5.00 for a drink and you have to be part of the "in" crowd or no one talks to you. How ridiculous! I've personally been to the places you mention it's for spoiled college kids, jocks, or the "affluent minded" and snobs.
Oh and lets not forget the music, yes its different but that's a GREAT thing. Why bother going out to a bar and paying $5 or more for a beer hearing the same music you just heard on the radio in your car? do you like being bored to tears I don't and I can sit home with a 12 pack listening to the radio for cheaper, be served quicker and not have to deal with pretentious people who have nothing to be pretentious about. —djack

---
2012-07-19 09:05:45 I have to ask if NewtonNola's profile is accurate. Why is someone who was born in 1962 (making them 50 years old currently) going to bars that are generally 20 - 40 crowd? Not trying to discriminate on age but her opinion really isn't even relevant considering the music played at Vertex didn't exist when this person was in their teens therefore they have no connection to the culture, music or anything unless they were genuinely interested in it which they are obviously not from their previous comments. Just like someone born in the 1970s would have little or no connection with Disco or its culture. Just food for thought. —djack
---
2012-07-19 09:20:45 Not sure where you think Abilene, Mayfield's, Flipside, Tap & Mallet, The Old Toad, McGegor's, and Salinger's are, but only McGregor's is in the "East Ave pretentious" bar area and I wouldn't even really put it that category. Salinger's and Old Toad are nearby but I wouldn't put them in the category of Murphy's and other spots like that Abilene is a country bar, Tap is a good beer bar, I've never been to Mayfield's and Flipside —PDub

---
2012-09-21 12:35:12 Vertex is an ok place. The staff is great & the music is good. The only problem is the people that go there are not so great or good. I spent 20 $ there but spent another 25$ afterward to dry clean my clothes because I was dancing with a beer. Apparently this makes people angry & wanting to fight. I wasnt being sloppy or spilling anything, I simply had a beer... at a club. Sure the guy appologized & bought me a beer (think the owner made him) but does that really make it ok? I certainly will not be returning —Jasonstatham
---
2013-12-13 04:41:12 Could anyone tell me if there is a special parking lot for this club? Or is it just park where ever you find a spot?