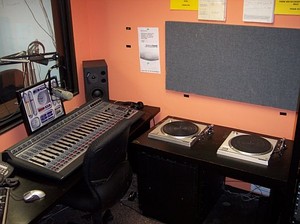 WITR's recently remodeled Studio A
Frequency and Band
89.7 MHz FM
Licensed Power
910 Watts
Phone
585 475 2000 (Office)
585 475 2271 (Request Line)
Mailing Address
WITR Radio
32 Lomb Memorial Drive
Rochester, NY 14623
Website
http://witr.rit.edu
Wikipedia
WITR
WITR 89.7 The Pulse of Music is a college radio station broadcasting from basement of the Student Alumni Union at the Rochester Institute of Technology. WITR was founded as an AM station when RIT was at its former, downtown campus. In the early 1980s the station made the switch to high powered FM transmission. The station has an effective radiated power of 910 Watts and broadcasts on 89.7 MHz in the greater Rochester area. The station features an eclectic mix of modern, independent, alternative music in addition to more than a dozen specialty shows that focus on specific genres of music.
WITR completed a $50,000 upgrade to their broadcast infrastructure as of September 2008, making it one of the most technologically advanced professional radio stations in the greater Rochester area. The entire station was gutted and a new Axia audio transport system was installed. This system allows all audio to travel through the station as high quality digital audio streams over a network. The upgrade also included a new main broadcast console, multiple remodeled studios and general equipment upgrades and was completed in two weeks by a team of student members.
WITR's full program listings, as well as a high quality Internet stream, can be found on their website, .
Comments:
Note: You must be logged in to add comments
---
2008-07-01 11:41:06 Rochester is a better place because of it. —MrPhil
---
2009-12-04 11:04:08 the current student-run executive board at WITR is in the process of gutting the station of its community members and long-running specialty shows. for details see this facebook group:
http://www.facebook.com/group.php?v=photos&gid=201574743941#/group.php?gid=201574743941&ref=nf and this article from the democrat and chronicle
http://www.democratandchronicle.com/apps/pbcs.dll/article?AID=2009911170306 —RaginRon