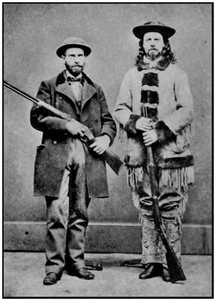 Henry A. Ward (left) with
Buffalo Bill Cody
Location
5100 West Henrietta Road, Rochester, NY 14692
Phone
585 359 2502
Website
http://wardsci.com/
Ward's Natural Science Establishment was founded in Rochester in 1862 by Henry August Ward, providing taxidermy equipment, pre-stuffed taxidermy mounts, pre-selected museum mini-collections, and other "natural science materials." In the nineteenth century, Ward's grew to be an indispensable resource for the growing American museum movement- new museums looking to bulk up their collections quickly were able to purchase the most popular museum objects (mounted animal specimens, individual bones or whole skeletons, mineral samples, plaster casts of well-known Greco-Roman statuary, etc.) for public display.
Ward's also served as the agent for foreign artists and craftsman to sell their wares to U.S. institutions. Some notable artists working with Ward's at the turn of the 19th century included:

Some examples of Ward's items purchased in the late 1800s and early 1900s by the
Carnegie Museum of Natural History (text in quotations is taken from the exhibition labels in the museum's "Fierce Friends" exhibit):

Blaschka glass animals (displayed with chromolithographs of illustrations from Ernst Haeckel's Art Forms in Nature)


Gorilla skeleton, c. 1900 (Skeleton was purchased and mounted by Ward's, who "gave it an upright, human-like posture")


Dog skeleton, c. 1900


Horse skeleton, c. 1896 ("Carnegie Museum ordered extensively from Ward's at the end of the nineteenth century")

Mounted specimens from Ward's were suspended using brass rods and hooks, with a wooden base. A Ward's nameplate was affixed to the base, reading "Ward's Natural Science Establishment, Rochester N.Y."
At the start of the twentieth century, though, Ward's began to decline in prosperity. Better funding and increased public support meant that museums were able to create taxidermy departments within the institution, hire collections managers, and fund collecting expeditions to collect (or steal) "exotic" (and thus more desirable) specimens. The market for pre-prepared collections waned and, in 1928, the Ward family donated the Establishment to the University of Rochester. Since then, Ward's has been converted from museum supplier to science education supplier, enjoying prosperity throughout the twentieth century. According the the history section on the University of Rochester Archive page describing Ward's, the company was purchased by Science Kit in August of 1980, and continues to be a "leading educational supplier" today, with operations in Henrietta, NY.
Ward's has been criticized and protested by local and national animal rights groups. An undercover investigator from
PETA infiltrated the company, where they videotaped employees injecting live animals with formaldehyde. The video
Classroom Cut-ups features some of this video footage. Watch it on
YouTube.
Odd useless information: Ward's was responsible for stuffing Jumbo,
the famous elephant, of the Barnum & Bailey Circus. Jumbo is now for the most part contained in a jar of peanut butter.
External Links
Comments:
Note: You must be logged in to add comments