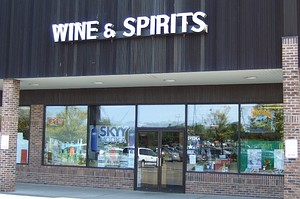 Photo Sep 2008 - BradMandell
Location
900 Holt Rd, Webster, NY 14580
Hours (as of November 2009)
Monday - Friday: 9:00am to 9:00PM
Saturday: 9:00am to 9:00PM
Sunday: 12:00pm to 5:00PM
Phone
585 872 3630
Accessible
Yes
Reviews
http://www.webstercentralliquor.com
Webster Central Liquor Store is a liquor store located in Wegmans Plaza - Holt Road in Webster.
Comments:
Note: You must be logged in to add comments
---
2008-09-23 15:31:25 A great local resource, very helpful staff for Websterites . We wanted a Scotch for our son-in-law for Christmas. We asked the gentleman behind the counter and we got a recommendation for a brand that was less expensive than the top of the line - our son-in-law loved it and was very impressed. —BradMandell
---
2010-12-06 19:43:49 Great selection of wine and liquor. The sales staff was very knowledgable about California and New York wines. Love the Thursday wine tastings —Kellydraveck
---
2011-04-21 19:50:21 Been going to this place about six years since I moved to Webster. The staff has never been overly friendly. Not everyone. There's a couple nice guys that work there. Two particular people who work there are just obnoxiously rude. It's close to my house and the prices are good. I just want to make my purchase and go home. This evening when I walked it and said good evening to the obnoxiously rude gentleman behind the counter he looked at me as if I had an alien bursting out of my chest. I walked out purchasing nothing deciding I will never frequent their establishment again. It was - as they say - the last straw. The Hard Road and Bay Road liquor stores are farther from my house. The Hard Road store is more expensive, but every time I go in there the staff says hello at the door, asks me if I need help, joke around, and it's just a great atmosphere. The Bay Road store has great prices and friendly people as well who will also throw you a hello as you walk in. In times of high gas prices I'll spend the extra change and time to seek them out. I know it's only a drop in the bucket and they probably could care less, but the Webster Central Liquor Store has seen the last of my money.

---
2011-04-23 04:37:54 I agree with you Chris, they are uninviting. I never get the feeling that they like being in the retail liquor business. —DamianKumor
---
2011-05-11 11:08:46 I have gone in several times as I live close by. I have always found the staff pretty helpful and friendly. I am curious as to whether there are discount coupons on-line. I know that they are in the Penny Saver, but I often forget to pick one up. Consequently to save money I more often go To Lisa's as their prices are genewrally cheaper. If I am missing the coupons on the website, please let me know. Pete Scibetta —PeterScibetta
---
2011-05-27 16:14:45 I had a strange experience with the owner accusing me of being rude because I asked for a piece of cardboard. Odd way to treat customers.