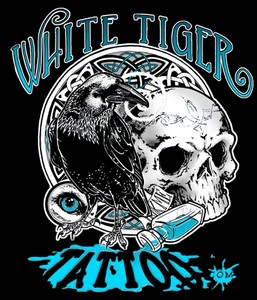 Location
466 Ridge Rd West, Rochester NY 14615
Hours
Tuesday - Saturday: Noon to 8:00PM
Sunday - Monday: Closed
Phone
585 621 4460
Website
http://www.whitetigertattoo.com
White Tiger Tattoo is a tattoo parlor on Ridge Road West near Dewey Avenue. Appointments recommended, though walk-ins are available on a first come first serve basis.
Comments:
Note: You must be logged in to add comments
---
2009-10-26 11:12:14 This is a wonderful shop, very professional. I got my first tattoo from Dylan Tate there and he did a phenomenonal job (old school eagle with my daughters names). The staff there is very professional and accomodating even for neophytes like me. They know what they are doing and are trustworthy. —ez4u2say4now
---
2011-07-20 11:36:19 I have heard Damon Hacker is working here. He did a GREAT tattoo on me when he first started inking! He used to ink for DC and Marvel comics, that shows! Big ego and big head, but with good reason. —Evan
---
2011-11-22 16:21:18 Every experience I have had with TeeJay has been exceptional.
It started with a tattoo to commemorate my graduation from grad school. I went to TeeJay with a loose idea (turtle, math and music symbols). She talked me through my ideas, asked me for some visual samples of some of the things that I was talking about (not everyone was using the internet as a regular source of information at the time and she didn't have a lot of experience with mathematical symbols!). She worked up some rough sketches and we made an appointment for the tattoo.
When I went back she had a few sketches that were more complete, including one that I ended up having done. I also framed the sketch to put up in my home. Yes, the experience was painful, but TeeJay always explained what she was doing and made sure that I had breaks when I needed them.
I had complete aftercare information and returned after it was fully healed for a check-in.
I had done quite a bit of research ahead of time and chose White Tiger based on their reputation for artistic talent and cleanliness. She didn't disappoint. All new needles were used and the shop is always clean and the work area is sterilized before each appointment.
My other 3 experiences were very similar. The only major difference was that much of the pre-work was done via email for my last 2 pieces. Clearly I am impressed with the work that I have done as I keep going back! I plan to keep my tattoos forever so I only want the best.
I haven't had any tattoos done by the other artists in the shop but I have seen that they follow the same safety/sterilization protocols that TeeJay does. They are all friendly when I'm in the shop and I have seen them interact with other clients and they are professional.
I have also seen pictures of their work and am impressed with their artistic ability.
I would recommend White Tiger Tattoo without hesitation. My only complaint is that it can take a long time to get an appointment with TeeJay. But she's worth the wait. —MelindaH