Location

Website Logo

35 Adrian Rd, Perry, NY 14530
Hours 1
Gates open: 12:00PM
Website Photo by MM Sports
Racing begins: 2:30PM
Website Schedule
Phone
585 237 2580 or 237 2510
Accessible
Info Needed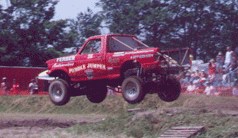 Website Off-Road Wyoming County International Speedway (WcIs) is a 1/3 mile paved oval race track in Perry, NY, 50 min SW of Rochester. WCIS opened in 1959 as dirt track (Perry Speedway), underwent improvements and is now a highly competitive SST asphalt racing surface.2.
WCIS also features a Grass Drag Strip; see their
Drag Strip Page.
WCIS has an Off Road Track under modification (Sep 2008) which provides racing for off-road enthusiasts; see their
Off Road Page for details and status of the project.
Directions: I-390 south to Exit 8 (Geneseo); turn right onto Rte. 20A West, pass through Perry Center, turn left on Suckerbrook Rd, right on Soper Rd, left on Adrian Rd.
Notes and References

Comments:
Note: You must be logged in to add comments