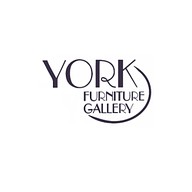 Location
3535 West Henrietta Road, Rochester, NY 14623
CLOSED (as of July 2022)
York Furniture Gallery was a local furniture store located across from Marketplace Mall on West Henrietta Road in Henrietta, and near many other furniture stores.
Comments:
Note: You must be logged in to add comments
---
2008-08-14 20:48:12 We bought a couch and dining room table from them. The couch and chair are nice and were reasonably priced, while we are less impressed with the table (we were told it was made domestically, and it wasn't). The sales people were the pushiest we dealt with in furnishing our home. Still, they seem to be a pretty good option for couches and chairs. —BrettDaly
---
2008-08-15 10:18:21 I bought a great quality leather chair from them. But I insisted it be 100% leather. The first one delivered was pleather. I complained, so they ordered me a new one. The next one was leather where you touched it and in hidden areas it was pleather.(Did they think I was stupid and I wouldnt notice?) I complained again and they ordered me a 100% leather chair. 6 months later I got the chair I wanted. They were friendly and accomodating the entire time, but that was ridiculous. —MrRochester
---
2008-11-19 16:54:38 Known the family for a long time...work with Brenda, she's wonderful! —PeteB
---
2009-03-29 10:22:59 We had the goofiest salesmen on the planet....said he was "one of the managers" and proceeded to stalk us the entire time while we were looking. We kept coming back to one set of furniture and he quietly whispered that he had rebates he could help us with to come down in price but we had to use it that day only! we will NEVER go back. ugh! —RocCity182
---
2011-05-25 03:42:08 I went to the store one sunday evening and was immediately greeted at the door. The salesman asked me what I was looking for and asked many questions. He proceeded to let me look and then stalked me throughout the entire store. He was annoying and i wasn't able to think clearly because I was being hounded. He said he was the manager of the store and i needed to take advantage of there sale because It was ending that day. Nice furniture but the stalking has to go. —RobertStar
---
2011-05-25 19:42:48 we ended up getting a couch from them, only because it was the nicest one i could find in my price range. but oh MAN, that salesguy- so annoying. the epitome of the obnoxious sales guy type. ugh. —portia356
---
2011-07-01 11:54:34 Use caution! The owner promises, but does not deliver. I would shop anywhere else in Rochester. —TheoWheeler
---
2011-07-10 17:59:11 Ordered furniture but it never came. Heard every excuse in the book. Finally cancelled the entire order. Beware. —jcavanaugh
---
2011-08-10 13:46:26 STAY AWAY FROM THIS PLACE ALTHOUGH THE COUCHES LOOK NICE. WITHIN 4 MONTHS YO WILL BE SITTING ON THE FLOOR. IT'S PURE JUNK. THE MANEGER LARRY BELL, WILL NOT CALL YOU BACK IN SPITE OF REPEATED MESSAGES LEFT ON HIS MACHINE. I HAVE BEEN COMPLAINING FOR NEARLY FOUR MONTHS AND AM GIVEN EVERY EXCUSE IN THE BOOK. TOM CAM OVER TO SEE THE SAGGING COUCH AND SAID HE WOULD ORDER FIMER CUSIONS.I WOULD HAVE THEM IN A WEEK,THE FOLLOWING WEEK I CALLED AND THEY HAD NOT COME,THHE WEEK AFTER I CALLED AGAIN AND WAS TOLD THEY WERE NEVER ORDERED.BLA BLA BLA BLA, LARRY WILL STALK YOU FROM THE MINUTE YOU GET INTO THE STORE,ONCE HE HAS YOUR MONEY,THERE IS NO SUCH THING AS SERVICE AFTER THE SALE. THERE IS A ONE YEAR WARRENTY, AND I BELIEVE THEY ARE MAKING EXCUSES TO WAIT OUT THAT YEAR.TOMORROW I WILL BE SITTING ON THIS CRAPPY COUCH IN FRONT OF HIS STORE WITH A SIGN THAT SAYS "FOR GODS SAKE SHOP SOMEWHERE ELSE" BOTTEM LINE HIGH PRICES CRAP AND WORST CUSTOMER SERVICE EVER!!!!!!!
---
2011-10-04 15:31:21 My experience with York Furniture was not good. I purchased an LB ( Lazy Boy ) chair in July 2011 which had to be ordered. The Chair came in and York Furniture called to say it was ready for pick-up. I brought it home to find it was done incorrectly. The back was over stuffed and it didn't line up correctly. One side had too much stuffing and the other side didn't have enough. I called the store and the person who took the call was very rude. She said that LB only stuffs the chairs one way and I must be confused. I brought the chair back to the store and the employee noticed it was stuffed incorrectly. She told me that Tom would fix it. I called after three weeks and Tom was coming into the store that day. They called me and said the chair was all done. I went to pick the chair up and there was no work done on the chair. It was an expensive chair and York Furniture is not a place to do business. I was in retailing for 38 years and I would never treat a customer like I was treated. An excuse was offered: we short of help - that's their problem not mine. P.S. I took the chair to a man who does work on furniture. He said it was over stuffed and not lined up on either side of the chair. This is going to cost me extra money to have a brand new chair fixed. —JudyStrenzwilk

---
2011-11-02 14:48:57 I am very happy with my purchase from York Furniture. We ordered a couch from Lazy-Z-Boy and an entertainment center from Riverside. Both are beautiful, delivered on time and assembled well. Our sales person was Susan and she was professional, friendly and highly efficient. This experience was ideal. I have read some of the other reviews. We have had Lay-Z-Boy furniture for decades and it is super resistant to wear. The sales people at York were professional and attentive. It is unfortunate that the vast majority of satisfied customers do not comment. This will support the really good businesses in our community.

---
2012-01-02 00:01:49 Great Experience! I was impressed with the quality of furniture and the many options available. My order came in quick and I have other furniture that I need in the near future. This will be the first store I go to from now on. —LynnMiller
---
2015-02-23 16:56:15 BUYERS BEWARE!! York Furniture uses hard and deceptive sales tactics. That's not to say they don't have a good deal waiting for you; but, IF you decide to buy here BEWARE of what your signing. They won't tell you ALL SALES ARE FINAL! And they wont' tell you about the fine print on the back of your Invoice. And NO you don't have 3 days to cancel your order. Read the Law and remember: you're coming to them- their not coming to you. So, IF you decide to buy here: BUYERS BEWARE!!!! And don't be afraid to cross out "This is a FINAL SALE; or, any other parts of the Terms and Conditions you don't like. Put a line through it; revise it; and then initial the change. Good luck and remember BUYERS BEWARE when shopping at York Furniture. —Terra52
---
2015-03-27 08:50:08 We stopped by the other day to look at living room sets, specifically a sectional. It was great to be able to look at the selection across a variety of brands. York Furniture did end up having a huge number of sectionals in house for us to look at and the sales woman was able to show me a ton of ways that it could be cusomized. They had a design area where they were able to show me all the cloth options. I would suggest you go to York if you want to see a great selection and if you want something that will look great in your house. Thank you York Furniture Gallery —AndrewWoodard
---
2015-06-04 16:39:32 I had a horrible experience with York furnace store in Henrietta New York we purchased a power reclining loveseat and a power reclining recliner from a lady who turned out to be the owner.she made false promises to me.The promised delivery date was much longer then told. Two weeks after the furniture arrived I started seeing sagging and wearing in the seat area of the sofa. The recliner also had problems when sitting in it it pushed you forward and was very uncomfortable. I called the store to report my concerns and they sent a service man to inspect it. The man who came to my house stated that the furniture was junk and stated he would never shop there. I told him I would Like the furniture replaced or my money refunded. After two weeks of sitting on a sofa a very expensive sofa that I was told was the top-of-the-line should not have had any SAG marks in a short period of time. . The store informed me that parts will be ordered and the furniture would be repaired. That was back in February it is now June and no repairs have been made. I have made several trips up to the store personally with an hours drive to arrive there only to be rudley treated and no results. no appointment has been made to fix my furniture and every time I make a phone call it is never returned. buyers beware the store will lie to get their money and not help you out when there are issues I regret buying this furniture from them and after spending $2300 I would have expected better quality my last sofa lasted me 13 years with no problems this sofa lasted two weeks and had extreme sagging on the seat I cannot believe that this company is still in business after the quality of furniture and the unresponsiveness to fix problems when something goes wrong I watched the owner of the store get out of her fancy Cadillac obviously that's how she rips people off to afford her high quality of life. I went into the store because my phone calls were not returned I told him I was not leaving until they resolve the issue one of the salesman personally gave me his cell phone and promised someone would call me first thing in the morning and take care of the problem again a false promise this never happened when I called him like I was told to tell him I did not get a phone call he was very rude and told me he didn't say that obviously he just wanted me out of the store so the other customers would not hear how horrible their furniture is and how horrible their service was I would not recommend buying anything from the store after spending the money I did I would have expected the furniture to last longer than the two weeks that it took for the sagging to begin buyer beware —Kathynarowski