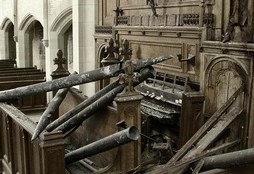 Decayed organ. The Abandoned Chapel in Mt. Hope Cemetery lies just a few feet from the road within the fence bordering Mt. Hope Cemetery near the southerly Mt Hope Ave gate, a few blocks from Elmwood Avenue. It is one of two chapels in the cemetery. This is the south chapel; the north chapel and crematorium, which are also unused, are behind the fountain back a ways from the cemetery's northerly gate on Mt Hope Ave near Robinson Dr which goes through Highland Park.
The Friends of Mount Hope refer to this Chapel as the "1912 Chapel," based on the date it was first used.
The Chapel's windows and doors are all secured. However, the main entryway is loosely secure at best. Visitors, who can access the interior, are treated to a breathtaking site of light filtering through the glass down onto the decaying pews left inside.
The Chapel is small and was built by the city for funeral services of those being interred in the cemetery. It has not been used in many years because of serious structural problems which are easy to see if you look over the outside of the building. Excessive differential settling of the foundation caused the problems. It's a very pretty little building, but the repair expenses cannot be justified by returning it to use as a chapel. However, a number of years ago, the city indicated an intent to reuse it as a mausoleum by creating spaces (niches) inside for interring cremated remains. The prospective sale of the niches was expected to justify the repair expenses. I don't know what happened to that plan. The
Friends of Mt Hope Cemetery is a great source of information about this and other structures in the cemetery.
Status
Rumor as of April 20, 2009 has it that the chapel will be undergoing restoration as part of a grant (whether to the City of Rochester or Mt. Hope Cemetery itself is unknown) from the Federal stimulus package.


As of Feb 28, 2009, the chapel was boarded up and could not be entered.
Comments:
Note: You must be logged in to add comments
---
2011-06-21 05:10:04 Wasn't this made by "Tiffany"? —VickyTee
---
2012-04-28 15:55:33 Update: As of April 2012, the chapel is still sealed up. The side entrance, however, is shoddily boarded at best, and could be pried open with relative ease if you were the sort of person who doesn't have a moral objection breaking in to a chapel. —HomelessHal
---
2013-09-02 09:47:35 Update: As of September 2013, there is absolutely no way to get into the chapel. There are doors on every entrance, and the windows are completely boarded up. —CBS
---
2023-08-01 13:40:07 have they patched this glitch yet-andrew bradford