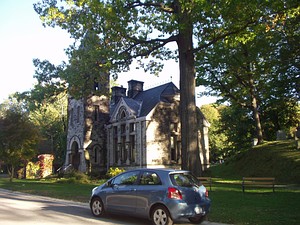 Building next to the main entrance, taken Oct 2006.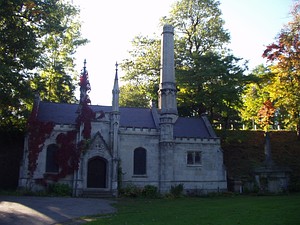 Decommissioned cremation facility within Mt Hope, taken Oct 2006.
Mt. Hope Cemetery is 197 acres of glacially sculpted land located along Mt. Hope Avenue in the Lilac/Upper Mount Hope neighborhoods. It is also adjacent to the University of Rochester.
Founded in 1838 as America's first municipal cemetery, Mt. Hope now has over 350,000 graves. Many figures of historical importance such as Frederick Douglass and Susan B Anthony have been laid to rest within its grounds. It has been well maintained over the years and serves well as a wonderful spot for a stroll, particularly in the fall.
Mt. Hope is also home to several interesting group plots. There are special plots for veterans of the Civil War, Spanish-American War, World War I. There is also the Firemen's Plot for Rochester firefighters. Immediately adjacent lay six men burned beyond recognition in the Steam Gauge and Lantern Works fire. They were buried together and marked with a monument in remembrance of the horrific fire. There is also a plot reserved for poor members of the Jewish community.
Mausoleums include those cut in stone and cast in bronze. Designs include obelisks, Greek-themed temples, winged angels, large urns, columns, Gothic towers and angels of mercy. The area is also packed with trees and plants, including some rare specimens. A 500-foot tunnel was constructed through the esker of the Indian trail for the purposes of drainage.
Mt. Hope is more than a cemetery, it's a historical landmark.
Events
Strange Events
Photos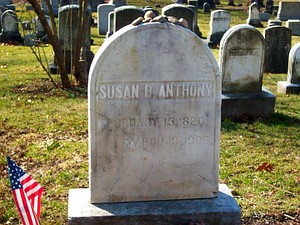 Susan B. Anthony's Grave, taken March 2012.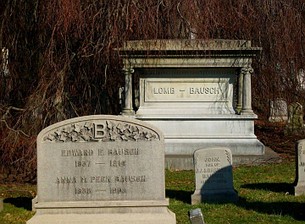 Lomb-Bausch Grave, taken March 2012.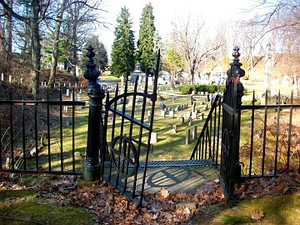 Open Gate, taken March 2012.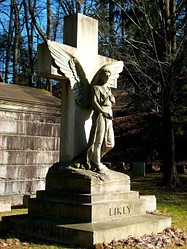 Angel, taken March 2012.
See Also
Links
Comments:
Note: You must be logged in to add comments
---
2015-05-28 15:54:32 Hi, just updating our page to reflect current events and contact info! also corrected a typo